Dearest
by Alethea Kontis
Series: Woodcutter Sisters #3
Published by Houghton Mifflin Harcourt BfYR
Pub Date: February 3rd 2015
Pages: 320
Format: eARC | Source: Publisher
Genres: Fantasy, Young Adult
Buy the book! | Goodreads

In her third book about the delightful Woodcutter sisters, Alethea Kontis masterfully weaves "The Wild Swans," "The Goose Girl," and a few other fine-feathered fairy tales into a magical, romantic companion novel to Enchanted and Hero.

Readers met the Woodcutter sisters (named after the days of the week) in Enchanted and Hero. In this delightful third book, Alethea Kontis weaves together some fine-feathered fairy tales to focus on Friday Woodcutter, the kind and loving seamstress. When Friday stumbles upon seven sleeping brothers in her sister Sunday's palace, she takes one look at Tristan and knows he's her future. But the brothers are cursed to be swans by day. Can Friday's unique magic somehow break the spell?
Dearest by Alethea Kontis is the 3rd book in the Woodcutter Sisters series and my favorite so far! I loved Friday Woodcutter and picking out the fairy tale influences in the story, from Peter Pan (her darlings!) to Rapunzel to the six swans.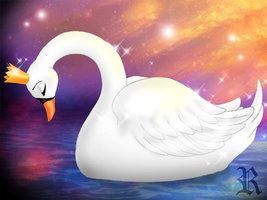 I also liked how closely it related to the other two books though I had trouble recalling some of the incidents. I can't wait to get the rest of the sister' stories- Thursday the Pirate Queen is next! If you like sweetness, irreverent humor, fairy tale mashups, and romance you'll enjoy the series. It requires suspension of disbelief in that fairy tale way but that's part of the charm.

Even though Cornelius is a fairy, this reminded me of Friday and Tristan while I read :)