Killer Instinct
by S.E. Green
Published by Simon Pulse
Pub Date: May 6th 2014
Pages: 272
Format: Hardcover | Genres: Suspense, Young Adult
Buy the book! | Goodreads

She's not evil, but she has certain... urges.

Lane is a typical teenager. Loving family. Good grades. Afterschool job at the local animal hospital. Martial arts enthusiast. But her secret obsession is studying serial killers. She understands them, knows what makes them tick.

Why?

Because she might be one herself.

Lane channels her dark impulses by hunting criminals—delivering justice when the law fails. The vigilantism stops shy of murder. But with each visceral rush the line of self-control blurs.
And then a young preschool teacher goes missing. Only to return... in parts.
When Lane excitedly gets involved in the hunt for "the Decapitator," the vicious serial murderer that has come to her hometown, she gets dangerously caught up in a web of lies about her birth dad and her own dark past. And once the Decapitator contacts Lane directly, Lane knows she is no longer invisible or safe. Now she needs to use her unique talents to find the true killer's identity before she—or someone she loves—becomes the next victim...
5 songs that would be found on a Killer Instinct soundtrack
I'm not the type of writer who listens to music while I type. BUT I totally do while I'm plotting. Right now I'm listening to Train. I just love them. They make me happy. However, Train is not who I listened to while plotting KILLER INSTINCT. This is a dark novel and requires instrumental, haunting, and deep sounds. This list is exactly what Lane, my main character, would listen to as well. Though her mind is often in turmoil, though her actions are violent, some readers might think she prefers hard rock. Indeed she does not, and in fact can't stand it. This is the music that would keep her focused and calm.
1. Adele – Turning Tables (Instrumental)
2. Johann Sebastian Back – Aria Da Ca
3. Daniel Licht – House – Dexter
4. Tricky – Past Mistake (the voices in this make the music even more evocative)
5. Angelo Badalamenti – Fire Walk With Me
To celebrate the upcoming release author SE Green is giving away some neat stuff: A personalized copy of KILLER INSTINCT, a Tshirt, autographed poster, and an an evidence bag of swag!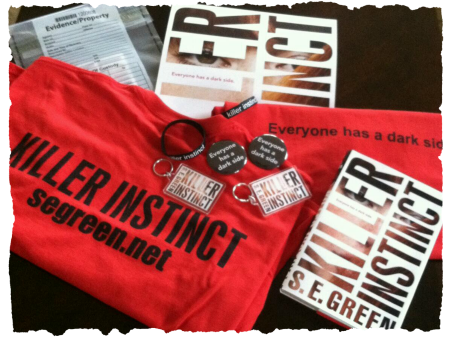 To Pre-order: Amazon | Barnes & Noble | BAMM.com | IndieBound
READ THE FIRST FEW CHAPTERS of KILLER INSTINCT on Wattpad
To find out more about SE Green and her books visit SEGREEN.net
and make sure to follow her on TWITTER | TUMBLR | FACEBOOK | INSTAGRAM