The Song of Achilles
by Madeline Miller
Published by Ecco
Pub Date: August 28th 2012
Pages: 378
Format: Paperback | Source: Purchased
Genres: Adult Fiction, Historical, LGBT
Buy the book! | Goodreads

Greece in the age of heroes. Patroclus, an awkward young prince, has been exiled to the court of King Peleus and his perfect son Achilles. Despite their difference, Achilles befriends the shamed prince, and as they grow into young men skilled in the arts of war and medicine, their bond blossoms into something deeper - despite the displeasure of Achilles' mother Thetis, a cruel sea goddess.

But when word comes that Helen of Sparta has been kidnapped, Achilles must go to war in distant Troy and fulfill his destiny. Torn between love and fear for his friend, Patroclus goes with him, little knowing that the years that follow will test everything they hold dear. 
The Song of Achilles is an absolutely striking novel. The writing is exquisite and lovely; it's sparse but uses the most wonderful descriptions and turns of phrase. I've read and watched my fair share of Troy adaptations but this is the best. It felt fresh and original, accessible, and brought to life these magnificent doomed characters. Ohhhh how you feel for them. The relationship between Patroclus and Achilles is everything you could wish for in a tragic romance. Whether you know the story or not (I did), you can see the twists of fate that bring them closer and closer to impending doom and ugh, it's horrible not being able to do anything about it!!!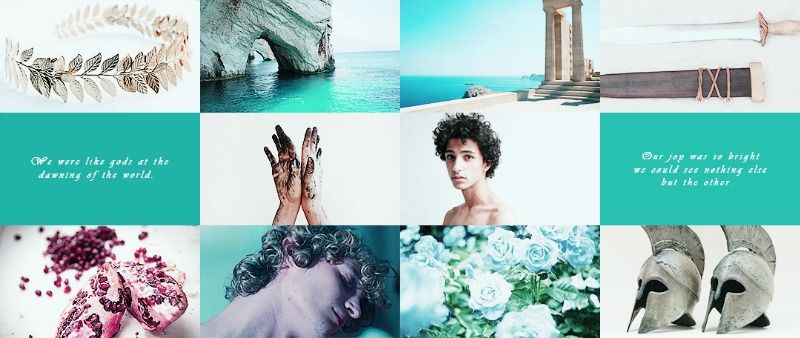 (source)
Madeline Miller humanizes Achilles and makes him a compelling hero worth following, while she raises Patroclus to new heights. There are traces of the gods but it doesn't feel hokey or intrusive, any more than it is supposed to. Odysseus, Thetis, and Briseis also shine as characters. I felt transported back in time to this incredible story. The emotions are overwhelming and burrowed into my soul. The language is evocative and the action is fierce, the romance tender. Historical fiction fans must read this; I'm so glad I did. I hope we don't have to wait much longer for Miller's next novel!
Tumblr is a treasure trove of mood boards, fan art, and on-point fan reactions to The Song of Achilles. Here are a few links to check out:
The Song of Achilles aesthetics
Achilles/Patroclus moodboard
Modern Patrochilles AU aesthetics
The Song of Captain America
Spoilers for Disney fans