Tuck Everlasting: 40th Anniversary Edition by Natalie Babbitt
Published by Farrar Straus and Giroux BfYR
Pub Date: January 20th 2015
Pages: 192
Format: Hardcover | Source: Publisher
Genres: Fantasy, Middle Grade
Buy the book! | Goodreads
Blessed with—or doomed to—eternal life after drinking from a magic spring, the Tuck family wanders about trying to live as inconspicuously and comfortably as they can. When ten-year-old Winnie Foster stumbles on their secret, the Tucks take her home and explain why living forever at one age is less of a blessing than it might seem. Complications arise when Winnie is followed by a stranger who wants to market the spring water for a fortune.

A brand-new introduction from Gregory Maguire, the author of Wicked, and additional bonus materials make this special edition of Natalie Babbitt's Tuck Everlasting a must-have for lovers of the book and a great way to introduce a new generation to a classic.

This book has never gone out of print and has sold 3.5 million copies in the US only. Four decades later, the question Natalie asks in Tuck Everlasting ("What if we could live forever?") is still a source of constant intrigue.
What if you could live forever?
In Tuck Everlasting, Winnie is given the opportunity to drink from the spring and live forever. While we don't know her definite reasons for skipping out on it, getting to see what the Tucks have gone through, what they have to go through still to keep it hidden, I can definitely see why she choose to live out her natural life. The Tucks seem wonderful on the surface, but I think they're all really sad underneath.
So my first instinct would be to say yes, serve me up some of that magic water, please! *sings* You and I are gonna live foreveeeeeeer. I'd get my loved ones in on it, start planning some trips around the world, you name it! I really do think it'd be a party… but how long can it remain that way?
We see the effect it's had on the Tucks. I honestly believe I'd end up just as sad and tired after a while. And what if people start resenting me for showing them to the spring? What a burden!
So while thinking about dying terrifies me, I don't think we're born equipped to live more years than we're meant to. I don't think our souls could take it. Too much to bear.
I stand with Winnie Foster.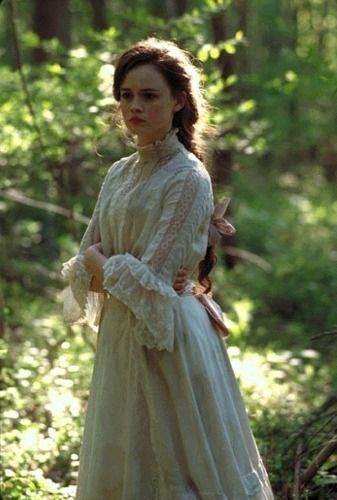 Giveaway