Here's the books we're taking to bed this week…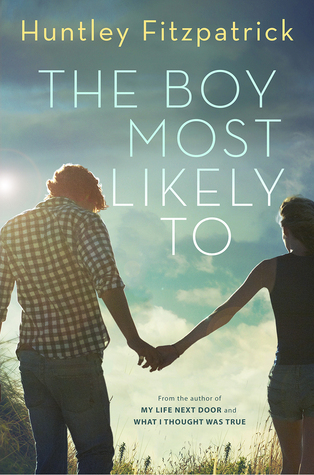 I JUST finished Playing with Trouble, so I'm starting The Boy Most Likely To NOW. I re-read My Life Next Door last month (or the month before… my memory sucks) so Tim is fresh in my mind and I'm really looking forward to his story. I HOPE he gets a happily every after.
This week I am reading the ARC of Vanessa Diffenbaugh's "We Never Asked for Wings" which comes out on Tuesday. The description on the back called it "A story of motherhood, Undocumented Immigration and the American Dream." Letty has been working 3 jobs for years trying to support her parents and her children, Alex 15 and Luna 6. From day one, Letty has been a terrible parent, always counting on her mother to raise her children and avoiding them at all costs. When Letty's parents decide to move back to Mexico, Letty is forced to step up and care for her children. I am completely invested in these characters, Alex is so smart and loving yet he doesn't care much for his mother, though she really is trying. Letty is finally sober enough to deal with her past and she's ready to do whatever she has to to make up for it. I am really enjoying this book and I can't wait to see how everything plays out.
Currently, I'm reading Pushing Send by Ally Derby & Jacqueline Ross. I usually try to keep page turners off my nightstand to avoid being suckered into that infamous "one more chapter", but Pushing Send tricked me! It began light/fluffy, and before I knew it the story went somewhere I wasn't expecting. The change was very welcomed! Between that and our roadtrip I'm getting less hours of sleep these past nights, but it's totally worth it!