I don't think I'll be able to really express how much I loved this book, at least no with a proper review. Thank you, Ginger, for putting this book in my hands. <3
Eliza and Paul have that crazy in love kind of relationship, where it's passionate but not destructive. They make each other better and their souls really know one another…
Sometimes people will do things because they think it's the right thing to do or because they think it's what you want, all with good intentions that really are so off base. Eliza and Paul go through this very thing and it made my heart ache SO MUCH.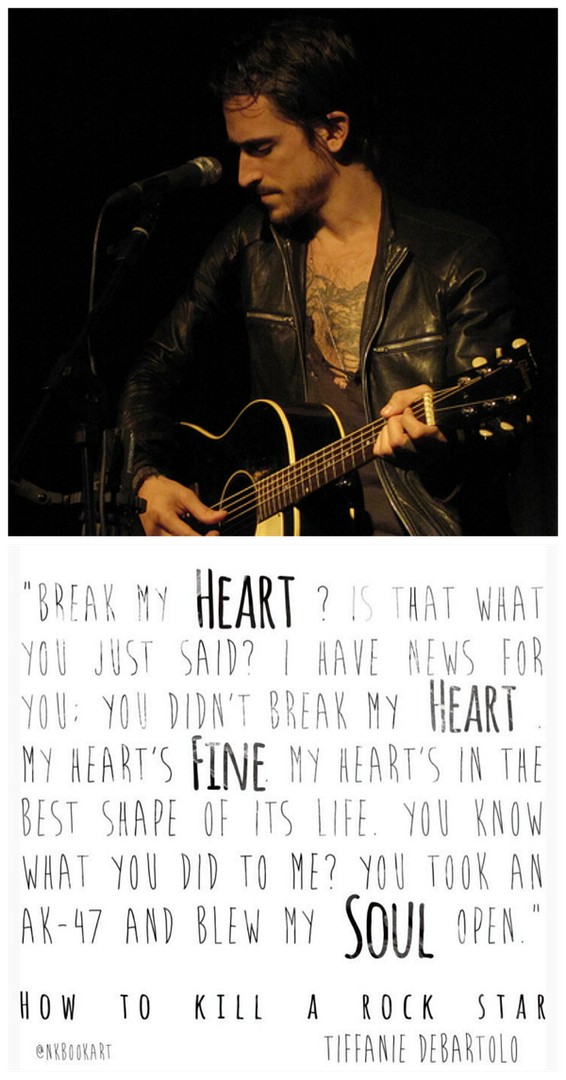 So this is Paul's song.. I feel this is him in his darkest, most devastating moment.
Lyrics: "Song for Zula" by Phosphorescent
I hope you guys will pick up this book! It's definitely at the top of my favorites this year, and probably for always.
Book Info
How to Kill a Rock Star by Tiffanie DeBartolo
Published by Sourcebooks
Pub Date: September 1st 2005
Pages: 417
Format: Paperback | Source: Gifted
Genres: Adult, Contemporary, Romance
Buy the book! | Goodreads
Written in her wonderfully honest, edgy, passionate and often hilarious voice, Tiffanie DeBartolo tells the story of Eliza Caelum, a young music journalist, and Paul Hudson, a talented songwriter and lead singer of the band Bananafish. Eliza's reverence for rock is equaled only by Paul's, and the two fall wildly in love.

When Bananafish is signed by a big corporate label, and Paul is on his way to becoming a major rock star, Eliza must make a heartbreaking decision that leads to Paul's sudden disappearance and a surprise knock-your-socks-off ending.