Joyride by Anna Banks
Published by Feiwel & Friends
Pub Date: June 2nd 2015
Pages: 288
Format: Hardcover | Source: Blog Tour
Genres: Contemporary, Romance, Young Adult
Buy the book! | Goodreads
A popular guy and a shy girl with a secret become unlikely accomplices for midnight pranking, and are soon in over their heads—with the law and with each other—in this sparkling standalone from NYT-bestselling author Anna Banks.

It's been years since Carly Vega's parents were deported. She lives with her brother, studies hard, and works at a convenience store to contribute to getting her parents back from Mexico.

Arden Moss used to be the star quarterback at school. He dated popular blondes and had fun with his older sister, Amber. But now Amber's dead, and Arden blames his father, the town sheriff who wouldn't acknowledge Amber's mental illness. Arden refuses to fulfill whatever his conservative father expects.

All Carly wants is to stay under the radar and do what her family expects. All Arden wants is to NOT do what his family expects. When their paths cross, they each realize they've been living according to others. Carly and Arden's journey toward their true hearts—and one another—is funny, romantic, and sometimes harsh.
Arden from JOYRIDE is your average (hot) southern (hot) country (hot) boy who used to love fried chicken and waffles as his favorite meal—until he met Carly Vega. Carly isn't big on cooking, but what she does remember from when her mother was still here is how to make Huevos Rancheros—a super easy, delicious recipe that can be used to bribe Arden to do whatever you want him to. Here's how to make it:
Ingredients:
Small corn tortillas
Vegetable oil
Kosher salt
Refried beans
Queso Fresco
Salsa verde
Eggs
Green chilis
One small avocado
Scallions
Fresh lime juice
Fresh cilantro
1.) Prep the ingredients before you heat up the oil to fry the tortillas: Thoroughly rinse and then dry the cilantro before you chop it. Heat up the refried beans and shred or crumble the Queso Fresco. Dice up the avocado and sprinkle with lime juice and salt, wash and chop the scallions. Set all these aside, as they will all serve as toppings for the fried tortillas.
2.) Slowly heat up a skillet to fry an egg in. The goal is to make an over-easy egg that's ready to place on the tortilla once it is assembled with the other toppings.
3.) Slowly heat up a small amount of vegetable oil in a skillet (enough to cover a tortilla). When the oil is ready, place one tortilla in the oil and fry on both sides until crisp. This will happen very quickly so don't walk away from it! Drain on paper towels and salt as soon as it comes out of the oil. Fry your next tortilla(s) the same way, and so forth until you have enough to feed Arden.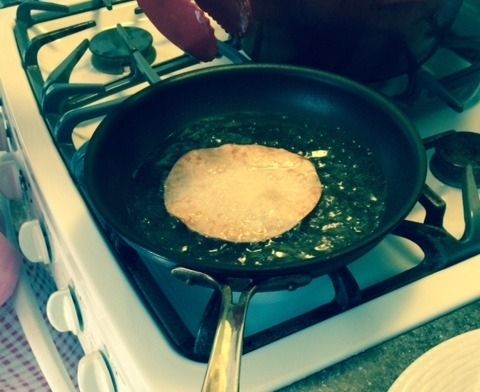 4.) Top fried tortilla with refried beans, queso fresco and all other toppings as desired. Place the over-easy fried egg on top and finish with another sprinkle of chopped cilantro.
5.) Enjoy talking Arden into anything at this point!
Join in on social media with #Joyride.
Visit Anna's website and follow her on Twitter!
Blog Tour Schedule
May 7- The Reader Bee
May 8- A Perfection Called Books
May 9- The Young Folks
May 10- Love Is Not a Triangle
May 11- The Eater of Books
May 12- Xpresso Reads
May 13- WhoRU Blog
May 14- Bewitched Bookworms
May 15- A Book and A Latte
May 16- Green Bean Teen Queen
May 17- Gone With The Words
May 18-Bumbles and Fairytales
May 19-Fiktshun
May 20-Curling Up With A Good Book
May 21-Swoony Boys Podcast
May 22-A Reader's Adventure
May 23-The Irish Banana
May 24-Exlibris Kate
May 25-Love At First Page
May 26-Adventures of a Book Junkie
May 27-Dana Square
May 28-Rather Be Reading
May 29-Paper Riot
May 30-Mundie Moms
May 31-Mary Had A Little Book Blog
June 1-Alice Marvels
June 2- MacTeenBooks Blog
Giveaway