The One That Got Away by Bethany Chase
Published by Ballantine Books
Pub Date: March 31st 2015
Pages: 352
Format: eARC | Source: NetGalley
Genres: Adult, Contemporary, Romance, Women's Fiction
Buy the book! | Goodreads
Perfect for fans of Emily Giffin and Jennifer Weiner, this bright, funny debut from a fresh voice in fiction offers a delicious take on love, family, and what it means to build a home of one's own.

Sarina Mahler thinks she has her life all nailed down: a growing architecture practice in Austin, Texas, and an any-day-now proposal from her loving boyfriend, Noah. She's well on her way to having the family she's hoped for since her mother's death ten years ago. But with Noah on a temporary assignment abroad and retired Olympic swimmer—and former flame—Eamon Roy back in town asking her to renovate his new fixer-upper, Sarina's life takes an unexpected turn. Eamon proves to be Sarina's dream client, someone who instinctively trusts every one of her choices—and Sarina is reminded of all the reasons she was first drawn to him back in the day. Suddenly her carefully planned future with Noah seems a little less than perfect. And when tragedy strikes, Sarina is left reeling. With her world completely upended, she is forced to question what she truly wants in life—and in love.

Full of both humor and heartbreak, The One That Got Away is the story of one woman's discovery that, sometimes, life is what happens when you leave the blueprints behind.
THE ONE THAT GOT AWAY had me hooked from the first few sentences…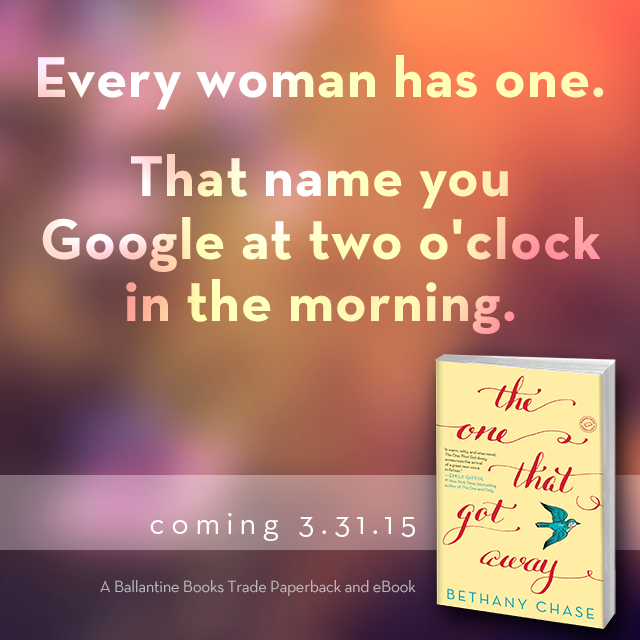 Because you know it's true and it instantly made me want to find out more about Sarina's One Person.
Bethany Chase's writing also drew me in from the start. It felt current and authentic. Her characters felt real and the setting was so vivid. If you're curious about what living in Austin is like, this book takes you there.
Sarina's life is pretty much set. Or so she thinks. She's content with the friends she has, where she lives, and with her boyfriend. She's super ambitions about her career though and works really hard at it. Her boyfriend is also ambitious about his work and at the start of the book we find out he's just moved to Argentina for a year for work. So here comes Eamon, her One Person, back into her life and he's about to rock Sarina's boat.
Everything starts out innocently enough. Eamon (pronounced 'Ay – mun' – yes, I looked it up!) is super cool, friendly, and thoughtful… and hot, ok? He's hot. He hires Sarina to remodel his new home so they spend a lot of time together, and since they had a thing before, the sexual tension begins to build, strong and fast. I enjoyed every second of it.
Now you may be asking, "What about the boyfriend?!" Wellll it's a sticky situation. The long distance separating them is not their only issue throughout the story. I think sometimes space gives you clarity. The more they talked about what they wanted from their lives together once Noah returned to Austin, the more it became clear to Sarina that they maybe weren't on the same page. I think there will be a few people that won't take kindly to the way things happen between Noah, Sarina, and Eamon, but for me, I think Bethany Chase wrote it as realistically and respectfully as possible.
I loved Sarina's friends. They were honest, supportive, and so fun. I also loved Sarina's relationship with her stepdad, her only living parent. But what I loved most was Sarina's journey and growth in the span of the year in this story. She found her true self, her home, and real love.
The One That Got Away was sexy, fun, and at times really emotional and I enjoyed every second of it. Be sure not to miss this one!
Book Playlist
Now, I have a treat for you! Bethany Chase created a book playlist, giving us exactly where each song fits into the story! Thank you, Bethany!! I love it!
Sarina and Eamon have terrific taste in music, if I may say so myself. These two do have similar taste in music, heavily skewed towards 70's rock and soul, and they bond over it at various points in the book.

Fleetwood Mac: Rumours. One of the most brilliant albums of the 70's, made when the entire band was breaking up with each other (romantically, not musically—yet) and writing songs about it and performing them spectacularly. Sarina's favorite song: "I Don't Want to Know." Eamon's favorite song: "You Can Go Your Own Way."

Stevie Wonder, the other Stevie in Sarina's life. She maintains that "Don't Worry 'Bout a Thing" is the all-time best; Eamon votes for "As."

Bill Withers: Sarina's favorite is "Heartbreak Road;" Eamon's is "I Don't Know."

The night of the Labor Day barbeque, the boys are listening to Steely Dan when Sarina and Noah arrive. Specifically, "Only a Fool Would Say That."

When they're on the way home from Jay's wedding, talking in the car late at night, I imagine The Eagles' "I Can't Tell You Why" comes on. It has the right slow and dreamy mood.

Then while they're driving home from the trip to Round Top, Player's "Baby Come Back" comes on the radio and they both start belting it out. She can sing pretty well. He cannot.

The Joni Mitchell song "Help Me" has always reminded her of Eamon; specifically, the way she felt after their one night stand.

Then, obviously, Simon & Garfunkel's "Homeward Bound."

SPOILER HERE: After they get together, she changes her ringtone for him to The Pretenders' "Don't Get Me Wrong." He sets his for hers to Ling Floyd's "Groove Me."
Q&A  with  Bethany  Chase,  author  of  THE  ONE  THAT  GOT  AWAY
What  got  you  interested  in  writing?  
I've  never  not  been!  My  love  for  words  has  been  one  of  the  most  consistent  characteristics  of   my  personality  for  my  whole  life,  though  it's  taken  many  different  forms.  (Poet,  journal-­‐writer,   email-­‐writer,  blogger,  novelist.)
Tell  us  about  the  first  book  you  didn't  finish.  
It  was  a  historical  romance  I  started  writing  when  I  was  fifteen  years  old  and  heavily  in  the   thrall  of  the  film  version  of  The  Last  of  the  Mohicans,  with  Daniel  Day  Lewis.  (Which  means,   specifically,  I  was  in  the  thrall  of  Daniel  Day  Lewis.)  So  heavily  enthralled  was  I  that  my  novel   consisted  of  a  first-­‐person  account  of  a  well-­‐bred  colonial  English  lady  who  for  unclear  reasons   found  herself  trailing  her  muddy  skirts  through  the  Adirondack  forest,  accompanied  by  a   ruggedly  handsome  and  ambiguously  Native  American  trapper  wearing  buckskin.  Shockingly,  I   didn't  complete  it.
Did  you  ever  keep  a  journal?  
Is  there  a  writer  on  earth  who  didn't?  I  had  kind  of  abandoned  journaling  by  the  time  I   graduated  college,  as  by  that  point  I  had  moved  on  to  burdening  all  of  my  nearest  and  dearest   with  my  woes  over  2,000-­‐word  emails  rather  than  pouring  it  all  out  into  a  journal.  But  the  high   school  journals  are  EPIC.  Basically,  you  would  have  thought  I  was  the  first  person  in  the  history   of  humanity  to  have  emotions  and  be  attracted  to  people  who  didn't  like  me  back.
Did  you  always  want  to  be  a  writer?  
Nope.  In  fact  for  most  of  my  life  I  avoided  the  idea,  because  I  assumed  it  would  be  too  hard  and   I'd  never  make  enough  money.  I'll  let  you  guess  which  of  those  two  assumptions  has  proven  to   be  true.
What  were  your  favorite  books  growing  up?  
The  Anne  of  Green  Gables  and  Emily  of  New  Moon  series  were  HUGE  for  me.  I  mean,  they  were   books  about  smart,  dreamy,  romantic,  highly  verbal  girls  who  wrote,  loved  beauty  in  all  its   forms,  hovered  at  the  fringes  of  social  popularity  and  also  really  liked  being  alone.  Emily  and   Anne  were  and  always  will  be  my  spirit  sisters.  Also,  I  think  my  many  rereads  of  James   Herriot's  marvelous  All  Creatures  Great  and  Small  books  legitimately  helped  form  my  sense  of   humor.  Between  Herriot  and  all  of  the  Monty  Python  I  watched  growing  up,  I  think  I  wound  up   with  a  fairly  British  sense  of  humor  for  an  American.
Who  are  your  favorite  authors  now?  
Chuck  Wendig,  Guy  Gavriel  Kay  and  Philip  Pullman  for  fantasy;  Mary  Kubica  for  suspense;   Emily  Giffin,  Taylor  Jenkins  Reid  and  Joshilyn  Jackson  for  women's  fiction;  Cara  McKenna  and   Julie  James  for  romance.
Do  you  have "one  that  got  away?"  
I  did.  He  was  my  high  school  boyfriend.  I  tracked  him  down  seven  years  after  the  fact,  like,   legitimately  slightly  stalker-­‐style,  and  we  actually  started  dating  again,  and  you  know  what?   We  weren't  right  for  each  other.  At  all.  It  was  all  very  romantic  and  fraught  as  long  as  one  of  us   was  pining  for  the  other  one,  but  actually  just  together,  with  no  angst?  It  didn't  go  anywhere.   We  are  now  both  very  happily  married  to  other  people.
Your  bio  says  you  are  married—tell  us  about  your  love  story.  
True  story:  when  we  first  started  dating,  we  had  such  strong  physical  chemistry  that  I  assumed   that  meant  there  wasn't  going  to  be  any  more  to  it.  My  friends  would  say,  "How's  Allen?"  And  I  would  shrug  and  say, "He's  hot."  This  led  to  him  being  known  amongst  my  circle  for  the  first   couple  of  months  as  Hot  Allen.  As  far  as  Sex-­‐and-­‐the-­‐City-­‐style  nicknames  for  guys  go,  I  think   he  came  away  in  a  pretty  strong  position  with  that  one.  But  then  he  just  kept  growing  on  me,   until  a  few  months  into  it  I  realized,  holy  shit  I'm  in  love  with  this  guy.
What's  your  idea  of  romance?  
No  flowers,  no  candles,  no  gestures,  will  ever  be  as  genuinely  romantic  as  those  random  little   moments  that  happen  when  you  least  expect  them  and  you  just  get  this  flash  of  piercing   sweetness  and  you  think,  yep,  this  is  it.  For  me,  personally,  it  often  involves  humor,  or   awkwardness,  or  both.  The  questionnaire  on  the  dating  site  where  I  met  my  husband  asked,   "What's  your  favorite  movie  sex  scene?"  And  my  answer  was,  the  one  in  that  90's  Liv  Tyler   movie  Stealing  Beauty,  where  she's  with  the  guy  and  it's  all  kissing  and  dreamy  music  and  then   he  goes  to  take  her  underwear  off  and  it  gets  stuck  on  her  ankle  and  she  laughs—that  is  THE   BEST.  Those  little  beautifully  imperfect  moments.  And  also  just  those  moments  of  kindness  and   support;  like  how  Anne  of  Green  Gables  doesn't  marry  the  wealthy  guy  who  pulls  out  all  the   stops  on  the  glitz  and  glam—she  marries  the  guy  who  gave  up  his  local  teaching  position,  at   tremendous  personal  inconvenience,  in  favor  of  the  farther-­‐away  one  so  that  Anne  could  live  at   home  with  her  family.  That  is  romance.
What  does  home  mean  to  you?  
The  place  you  belong.  I  think  for  most  of  us  the  specifics  of  that  place  change,  but  the  definition   never  really  does.
How  did  you  come  up  with  your  characters'  name?  
Well,  Eamon  has  been  my  favorite  name  for  a  guy  ever  since  the  first  time  I  fell  in  love,  at  four   years  old,  with  my  neighbor  Eamon  McCormick  (a  nice  Russian  boy,  obviously).  And  despite   the  fact  that  I  am  usually  a  strident  purist  about  name  spelling,  I've  always  thought  the  unusual   spelling  "Sarina"  had  something  especially  graceful  about  it.  Everyone  else  was  pretty   arbitrary.  I  tend  to  just  go,  "okay,  think  of  a  name!"  and  the  first  one  I  think  of  sticks.
What  do  you  love  about  the  cover  for  THE  ONE  THAT  GOT  AWAY?  
EVERYTHING.  Seriously,  I  hit  the  cover  jackpot.  I  love  the  colors,  the  bird,  the  graceful  lettering,   and  the  way  the  lettering  moves  rhythmically  back  and  forth  across  the  page.  I  could  give  you  a   full  art-­‐history-­‐style  image  analysis  of  how  wonderful  this  cover  is  in  every  way.
What  are  you  reading  right  now?  
I  just  started  Liza  Palmer's  Girl  Before  a  Mirror  and  am  really  enjoying  it.  She's  such  a  funny  yet   thoughtful  writer.
Who's  your  favorite  book  couple?   
Anne  and  Gilbert.  Obviously.  In  all  seriousness,  in  terms  of  their  mutual  love,  caring  and   respect  for  one  another  I  think  they  are  a  model  partnership  for  young  girls  to  read  about.   Clearly  it  worked  for  me.
Giveaway
For more content and to follow visit the other blog tour stops, visit the page for THE ONE THAT GOT AWAY! There's an excerpt, so you can see for yourself how awesome this book is. :)