And just like that it's over!
I cannot believe how fast this year went. Maybe a blessing in disguise? Who knows, but I'm sure looking forward to 2017. I'm sure you guys have read many amazing contemporary romance books this year because I know I have!
I finished with 14, which is a lot less than I thought I was going to read this year, but it is what it is. You can see all the books I read for this challenge in my goodreads shelf: challenge-2016-contemp-romance. But I do want to highlight some of my favorites!

Did you guys read and like and of my top five??? I hope so!
In this post you'll need to link up wrap-up posts. In January we will choose two winners from the combined November and Final (December) link-ups.
And finally, for 2017 we've decided to pass the baton to host this challenge to Andi of Andi's ABCs, who is a HUGE contemporary romance reader. Be sure to head to her blog for details and to sign up for next year's challenge!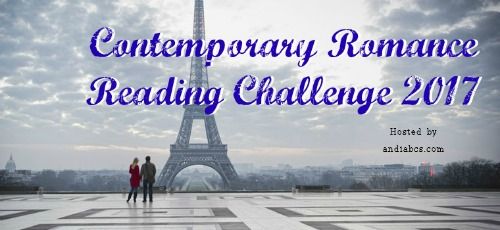 If you have any questions, please email Jess (jess.admin@gonewiththewords.com) or Danielle (danielleisbusyreading@gmail.com). Also, make sure you follow us on Twitter (@gonewiththeword & @loveatfirstpage) for challenge updates and reminders! Don't forget to use the hashtag #ContRom2016 to follow everyone's challenge updates on Twitter!