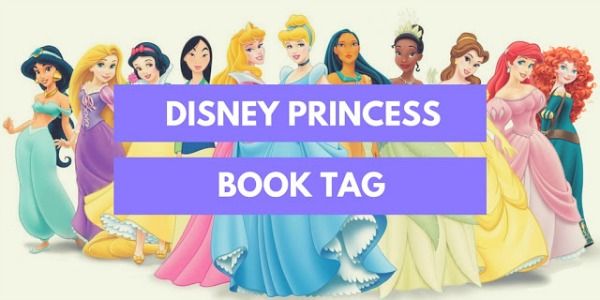 The Disney Princess Tag was originally created by Soudha of Stacks and Cups, and thanks to Alexa @ Alexa Loves Books for the graphic! I was tagged by her and Lindsey @ Bring My Books for this awesomely perfect book tag. Here we go!
3 Princess Facts
The first movie I saw in theaters was The Little Mermaid when I was 3. I loved it! I remember the sequence with Ariel's sisters in particular, and when we got home I found an Ariel Barbie under my pillow!
Belle is my favorite princess, with Tiana, Rapunzel, and Ariel close behind. But I love all the princesses really ;)
It's a bit strange: Cinderella is not my favorite princess or Disney movie, but I LOVE Cinderella adaptations! The Disney live action is a favorite, as is Ever After and A Cinderella Story. I also adore the musical and I love Ella Enchanted and other Cinderella inspired books. It's a classic tale for a reason.
SNOW WHITE | FAVORITE CLASSIC
Wuthering Heights: unpopular opinion time? Haha. I loved Wuthering Heights when I first read it in high school and I've read it 6 times since then. Everyone is unlikeable but so interesting and I love the violence of the language and setting.
CINDERELLA | BOOK THAT KEPT YOU READING PAST BEDTIME
I couldn't put The Raven King down for obvious reasons, it was SO compelling and I had to know what was going to happen! I can't remember the last time I stayed up til 1am reading a book (I fall asleep by 10pm most nights).
AURORA | FAVORITE CLASSIC ROMANCE
If we're going purely book, I adore Anne and Captain Wentworth from Persuasion. That letter! The looks! *swoons* But if we're talking movies I could watch every day, I love Emma & Mr Knightley so much, and of course I love Elizabeth & Darcy's romance too.
ARIEL | BOOK ABOUT MAKING SACRIFICES AND FIGHTING FOR YOUR DREAMS
The Realms of the Gods had all of this. Daine has to choose between saving her world, her friends, and her love or being with her parents and all the gods in the other realm, which is very tempting. She's sacrificing someone she loves either way and has to fight to get back to her friends and save Tortall from destruction. It was very tense and emotional!
BELLE | BOOK WITH SMART, INDEPENDENT MAIN FEMALE CHARACTER
Essie is self-sufficient, badass, and brave. She repairs mechanical droids and cage fights, and has much more going on underneath the surface. I loved her character in Stitching Snow! She can hold her own and doesn't take crap from anyone, including Dane. But she's smart and learns when to ask for help and who to trust when she needs to.
JASMINE | BOOK WITH CHARACTER WHO CHALLENGED SOCIAL CONVENTIONS OF HIS/HER WORLD
Rook. Sophia Bellamy isn't content with just marrying a man for his wealth or staying at home, which is why she becomes the daring spy Red Rook and sets her mind to saving innocent people from the dungeons of revolutionary Paris in this alternate future world (that feels like 18th century France). She's the embodiment of so many characteristics that she is told aren't appropriate for young women in her world.
POCAHONTAS | BOOK WHOSE ENDING WAS A ROLLER COASTER OF EMOTIONS
Every Word. This entire book was a roller coaster of emotions! I was so anxious and tense the entire time. But parts of the book are also funny, tender, and really sexy, until everything turns terrible again. There's a lot going on! You'll be left wanting the final book immediately.
MULAN | BOOK WITH KICK-ASS FEMALE CHARACTER
As much as I want to say And I Darken because Lada is the epitome of kick ass, I have to go with Alanna: The First Adventure because Alanna is the epitome of Mulan! Disguising herself as a man to become a warrior, besting all of the men in her class, falling in love, being discovered and shunned as a woman but then saving the world and being accepted as a female warrior. Mulanna ;)
TIANA | BOOK WITH HARD-WORKING & SELF-MADE CHARACTER
Han Alister is the epitome of a self-made man in The Demon King. He goes from ruling the streets of Ragmarket to mastering his wizardry and becoming enmeshed in Seven Realms politics and the Gray Wolf queendom.
RAPUNZEL | BOOK THAT FEATURES AN ARTIST
I have a feeling that Rapunzel would be as taken with Jack from The Anatomical Shape of a Heart as Beatrix is. Art features heavily in the book, both traditional and non-traditional forms, and it affects almost every relationship. Jack is the main artist that comes to mind, but Beatrix is an accomplished artist in her own right.
MERIDA | BOOK THAT FEATURES A MOTHER-DAUGHTER RELATIONSHIP
One of my favorite things about The Raven Boys (and The Raven Cycle in general) is Blue's relationship with the adult women in her life, particularly her mother Maura. They're really close and you can feel the love between them. I also like that Maura can vacillate between being motherly and talking to Blue like an equal. They discuss everything and sometimes fight, sometimes keep secrets, but the mother-daughter bond is always there and it's strong.
ANNA & ELSA | BOOK WITH A GREAT RELATIONSHIP BETWEEN SIBLINGS
The Summer After You and Me has a very real sibling relationship, which blossoms into something great, which I liked. Lucy and Liam are twins that used to be close as kids and have really grown apart. And honestly, Liam is a jerk to Lucy for most of the book. However, the last 20% or so you see them talk through their issues and differences and embrace their sibling relationship as friendship also; I liked the arc of their relationship with each other.
I'm tagging any Disney fans who want to participate! Let me know what you think of my selections in the comments below!