Happy Monday, friends! I partnered with JIMMY Patterson Books to share this amazing giveaway of one of the most anticipated books this Fall! And with Halloween right around the corner, nows the perfect time to enter to win a copy of Stalking Jack the Ripper by Kerri Maniscalco!
Here's a little more about the book from the author herself:
Stalking Jack the Ripper is without a doubt a new take on the legendary mystery of Jack the Ripper. What drew you to the story of Jack the Ripper, and why did you choose him as a villain?
Unsolved crimes and history have intrigued me since I was a teen. I was fascinated by the Ripper case in particular because of the mystery that still surrounds it. There are so many theories and suspects, and as a writer it's a wonderfully blank canvas for creating your own backstory. Who was Jack? Where did he come from? What were the circumstances leading up to that Autumn of Terror? I think the most interesting villains are ones that fit into that questionable gray area—the place where we understand their motivation, even if we're horrified by it.
I chose Jack because I wanted this story to focus on a young woman who turned the tables on him. When I researched case details, I immediately thought about the forensic team behind the scenes. It was one of the first times in history forensics were applied to a case with gusto, so I imagined how interesting it'd be if a teenage girl was involved with stopping this notorious killer of women. From there it evolved into Audrey Rose's story of how her world and Jack's converge.
Giveaway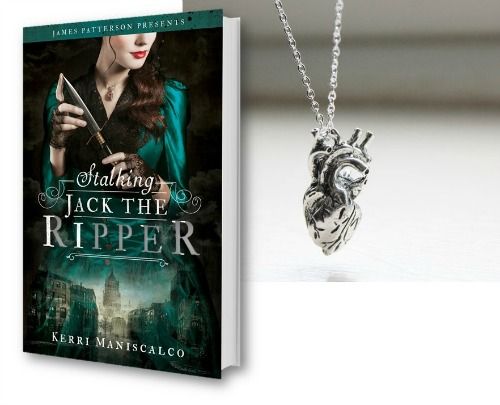 Book Info
Stalking Jack the Ripper by Kerri Maniscalco
Series: Stalking Jack the Ripper #1
Published by Jimmy Patterson
Pub Date: September 20th 2016
Buy the book! | Goodreads
Presented by James Patterson's new children's imprint, this deliciously creepy horror novel has a storyline inspired by the Ripper murders and an unexpected, blood-chilling conclusion…

Seventeen-year-old Audrey Rose Wadsworth was born a lord's daughter, with a life of wealth and privilege stretched out before her. But between the social teas and silk dress fittings, she leads a forbidden secret life.

Against her stern father's wishes and society's expectations, Audrey often slips away to her uncle's laboratory to study the gruesome practice of forensic medicine. When her work on a string of savagely killed corpses drags Audrey into the investigation of a serial murderer, her search for answers brings her close to her own sheltered world.

The story's shocking twists and turns, augmented with real, sinister period photos, will make this dazzling debut from author Kerri Maniscalco impossible to forget.