I've never taken part in a blogging book challenge before but this year there are too many good ones to pass up and I really need to start scaling that TBR mountain of mine! I'm going to participate in 4 challenges this year (lofty goals) and see how I do. December was a rough reading month so hopefully January will wipe the slate clean!
First, Put The Library On Hold- Checking Out Our Own Shelves hosted by Lory @ The Emerald City Book Review. There are no particular rules; you just read books you already own and have been meaning to read from January 1st-31st. I'm going to choose from these books:
The Glass Sentence by S.E. Grove
Illusions of Fate by Kiersten White
Waistcoats & Weaponry by Gail Carriger
The Perilous Sea by Sherry Thomas
The Kiss of Deception by Mary Pearson
Snow Like Ashes by Sarah Raasch
Every Word by Ellie Marney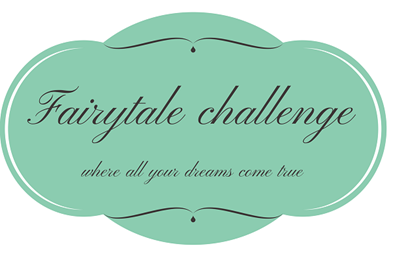 Second, the Fairytale Retelling Reading Challenge hosted by Mel @ The Daily Prophecy where you can choose different levels based upon how many books you will try to read. I'm really excited about this one because I LOVE fairy tale retellings! I'm going to try for Magic Mirror, 5-9 books! Maybe Big Bad Wolf, which is 10-15 books.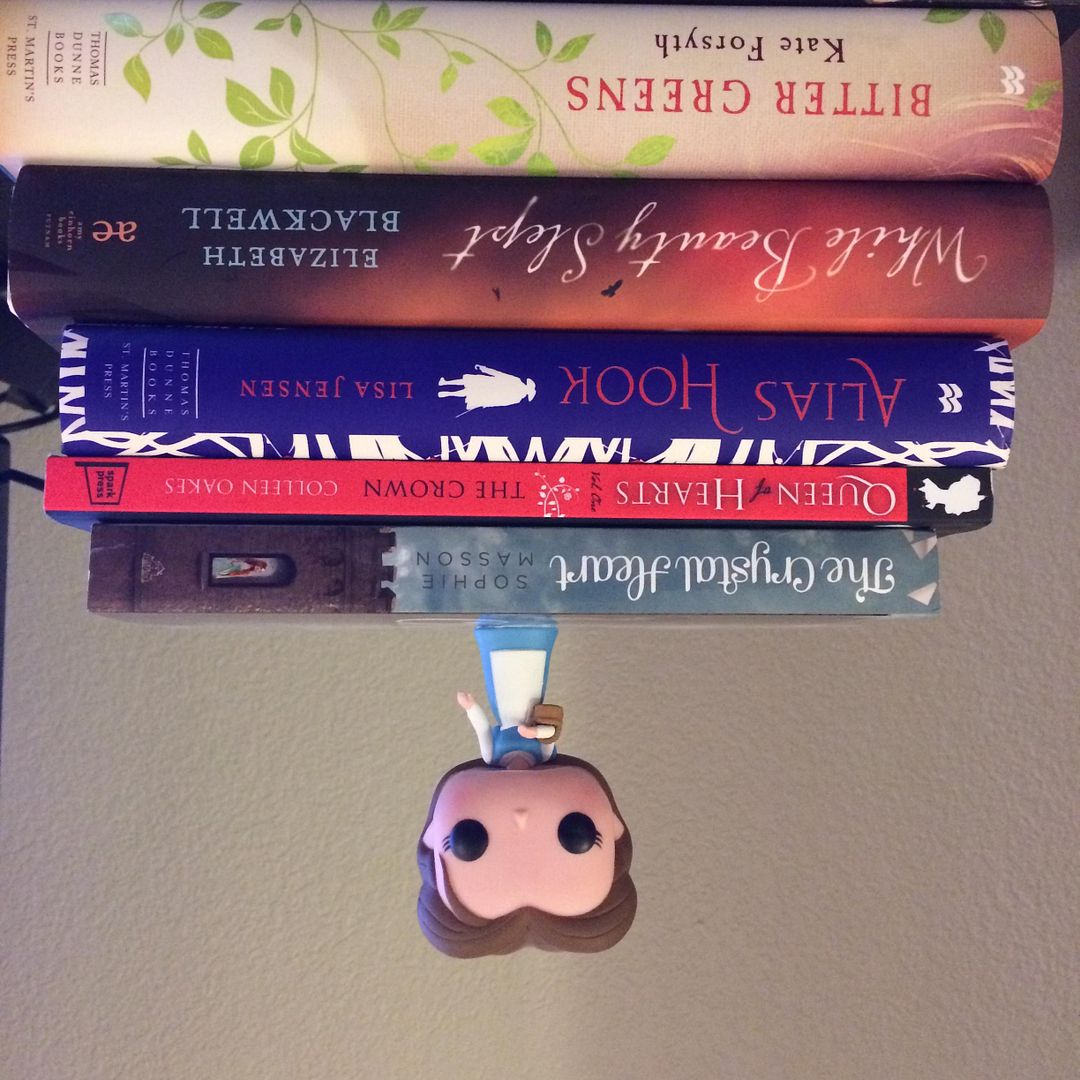 The Crystal Heart by Sophie Masson (Rapunzel)
The Crown by Colleen Oakes (Alice in Wonderland)
Alias Hook by Lisa Jensen (Peter Pan)
While Beauty Slept by Elizabeth Blackwell (Sleeping Beauty)
Bitter Greens by Kate Forsythe (Rapunzel)
Winterspell by Claire LeGrand (The Nutcracker)
Princess of Thorns by Stacey Jay (Sleeping Beauty)
Fairest by Marissa Meyer (Wicked Queen)
Winter by Marissa Meyer (Snow White)
Crimson Bound by Rosamund Hodge (Red Riding Hood)

Third, the Flights of Fantasy Reading Challenge 2015 hosted by Alexa @ Alexa Loves Books and Rachel @ Hello, Chelly. It's another create your own level challenge- read as many fantasy books as you want! Well almost half of my TBR next year is fantasy books so this should be a good one! I do like to space out my reads because the world building (and emotions) can be intense, plus I am less likely to get annoyed by similarities between books that way :) I'll aim for 20 fantasy books!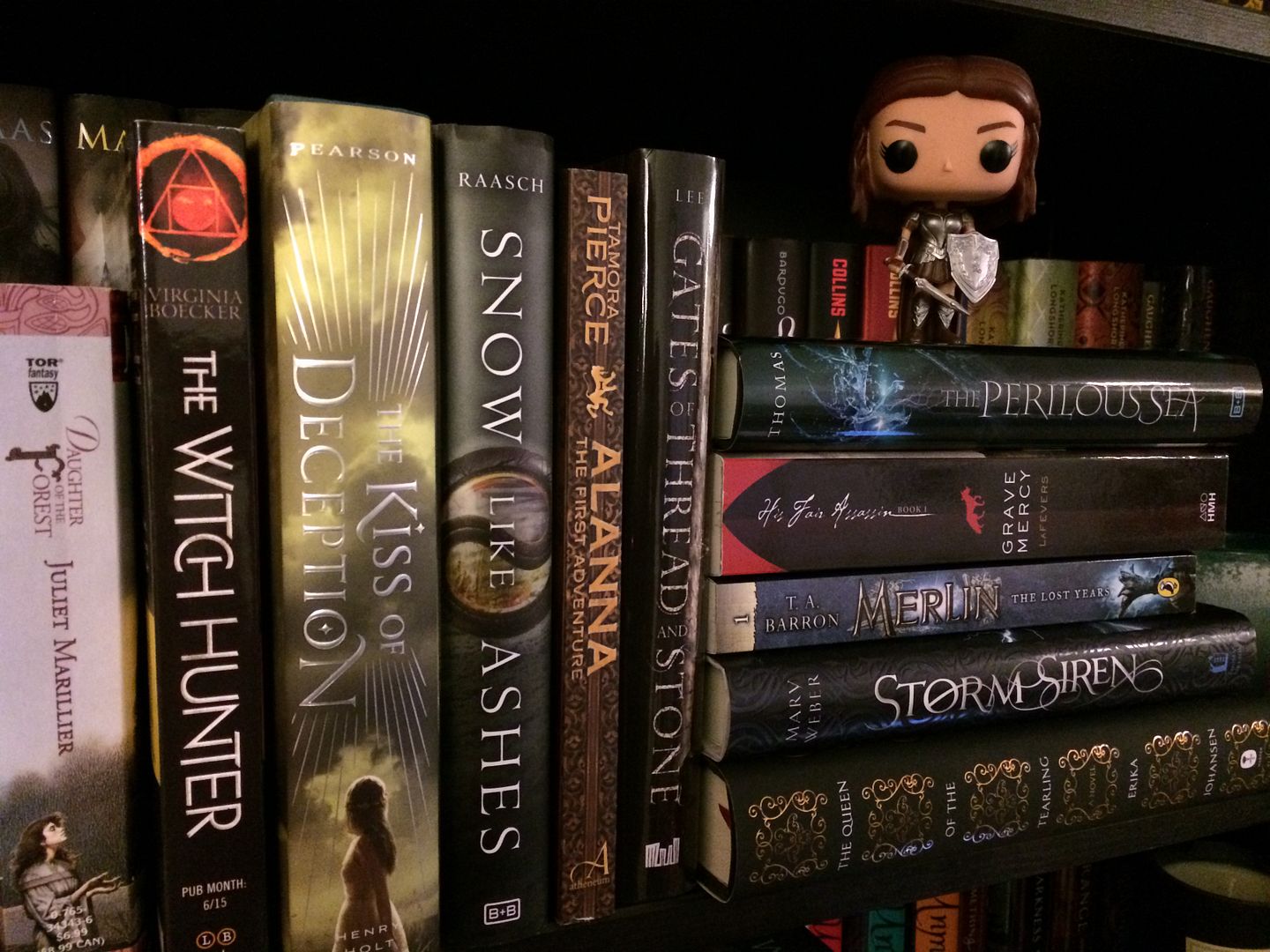 Daughter of the Forest by Juliet Marillier
The Witch Hunter by Virginia Boecker
The Kiss of Deception by Mary Pearson
Snow Like Ashes by Sarah Raasch
Alanna: The First Adventure by Tamora Pierce
Gates of Thread and Stone by Lori Lee
The Perilous Sea by Sherry Thomas
Grave Mercy by Robin LeFevers
Merlin: The Lost Years by T.A. Barron
Storm Siren by Mary Weber
Queen of the Tearling by Erika Johansen
Red Queen by Victoria Aveyard
The Winner's Crime by Marie Rutkoski
The Storyspinner by Becky Wallace
A Court of Thorn and Roses by Sarah J. Maas
Throne of Glass #4 by Sarah J. Maas
Hidden Huntress by Danielle L. Jensen
Mark of the Thief by Jennifer A. Nielsen
The Orphan Queen by Jodi Meadows
In The Time of Dragon Moon by Janet Lee Carey
An Ember in the Ashes by Sabaa Tahir
Crimson Bound by Rosamund Hodge
Court of Fives by Kate Elliott
The Vanishing Throne by Elizabeth May
Six of Crows by Leigh Bardugo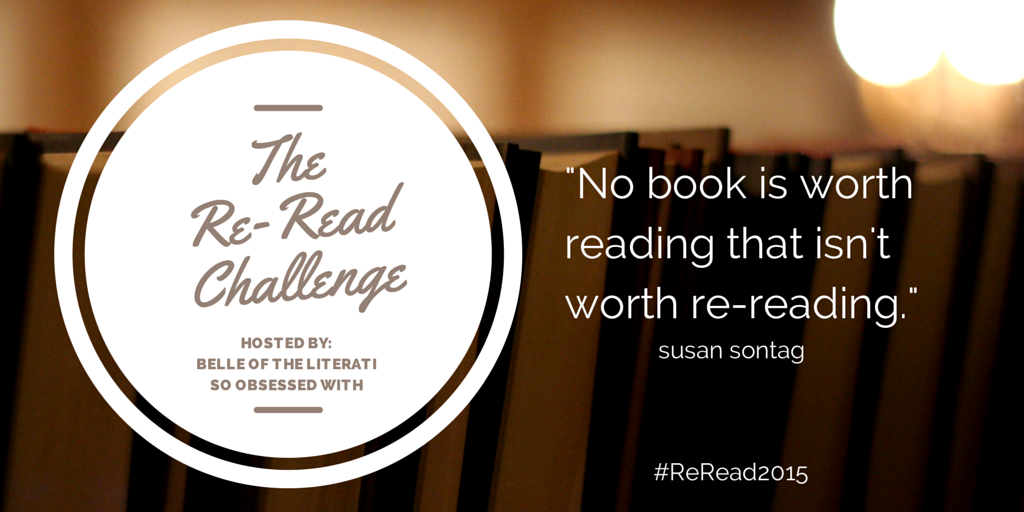 Last but CERTAINLY not least, the 2015 Re-Read Challenge hosted by Hannah @ So Obsessed With and Kelly @ Belle of the Literati. I love rereading books but always feel so guilty about it and now I have the perfect excuse to indulge! It's a mixture of childhood favorites, recent contemporaries, and some fantasy novels I want to delve deeper into. Subject to change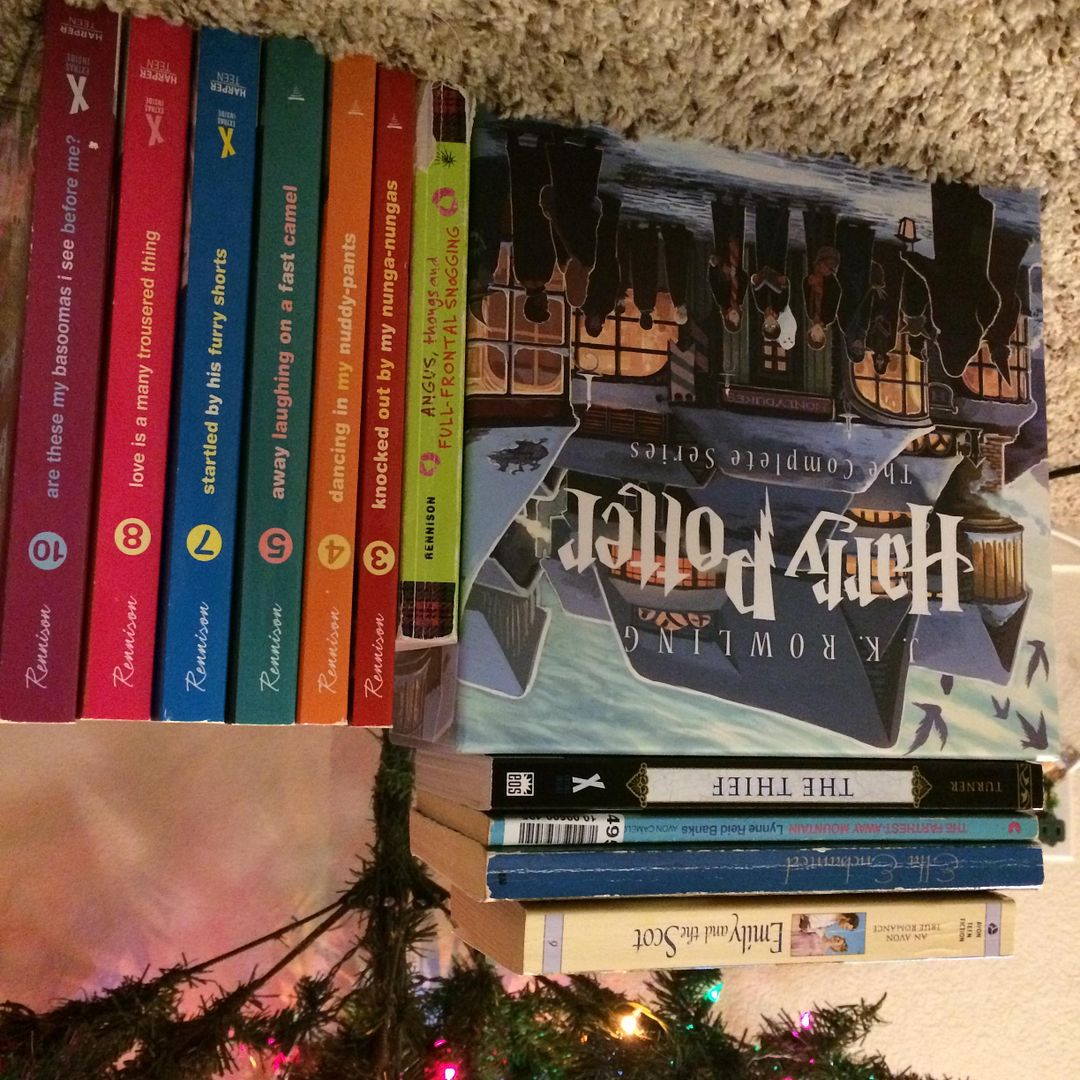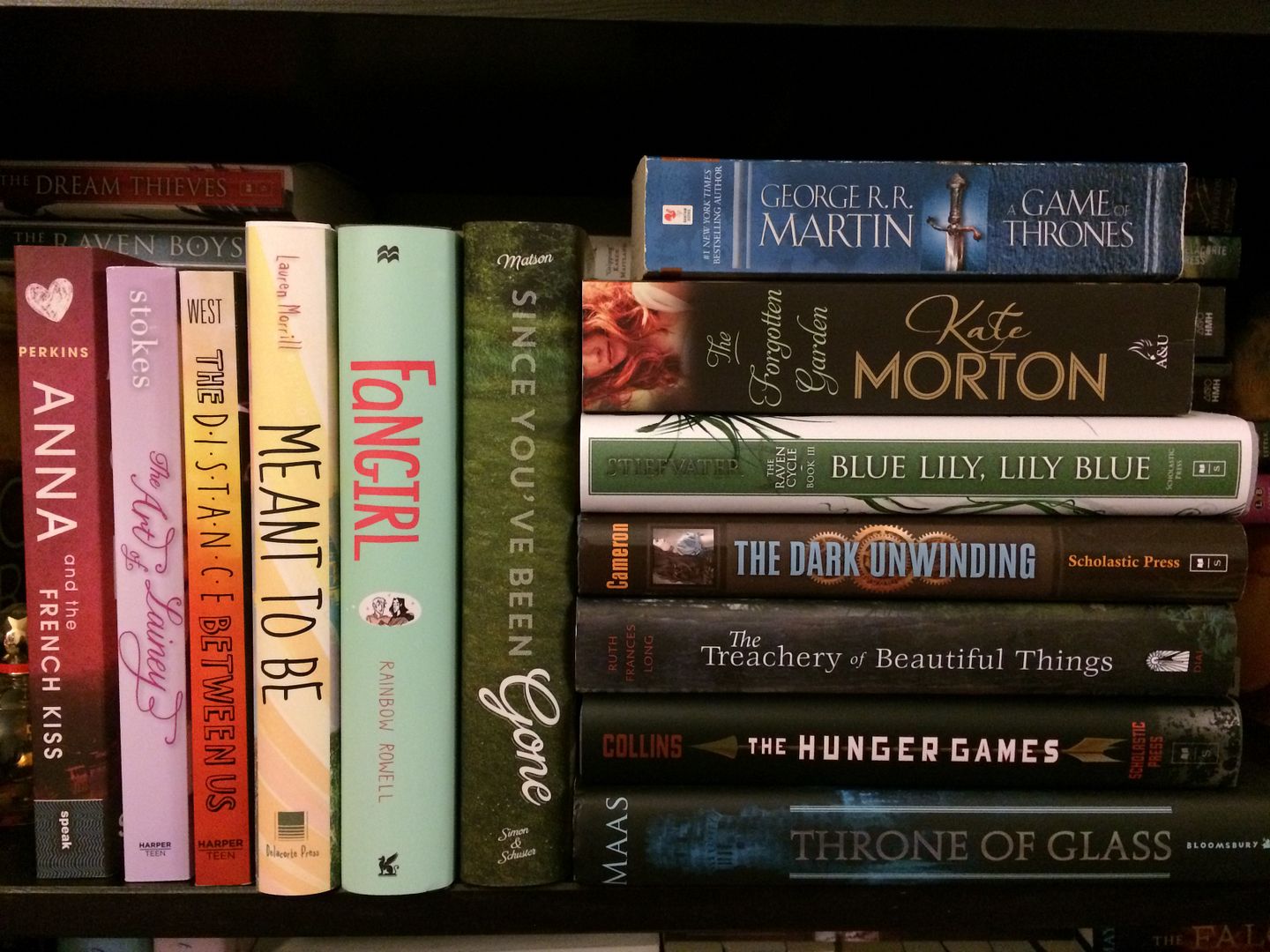 Harry Potter and the Chamber of Secrets by J.K. Rowling (possibly the whole series [who am I kidding, totally the whole series]; I read SS really recently so I'll start with Book 2!)
Angus, Thongs, and Full Frontal Snogging by Louise Rennison (possibly the whole series- the fabulosity of these fabbity fab books cannot be overstated. I read the first 5 in high school, the last 5 college and I need the Ace Gang in my life again laughing like a loon on loon tablets.)
Emily and the Scot by Kathryn Smith (ohhh I loved the Avon True Romance series)
Ella Enchanted by Gail Carson Levine (my FAVORITE childhood book before HP)
The Farthest Away Mountain by Lynne Reid Banks (my first fantasy book)
The Thief by Megan Whalen Turner (read it when it first came out and remember nothing!)
Anna and the French Kiss by Stephanie Perkins (my 3rd Anna reread!)
The Art of Lainey by Paula Stokes (Micahhhhhh!)
The Distance Between Us by Kasie West (CUTENESS)
Meant to Be by Lauren Morrill (the book that started my recent love of bantery YA contemp)
Fangirl by Rainbow Rowell (CARRY ON SIMON)
Since You've Been Gone by Morgan Matson (my favorite of the summer)
The Forgotten Garden by Kate Morton (my favorite author so I want to fall in love again with my favorite (and first) book of hers!)
Blue Lily, Lily Blue by Maggie Stiefvater (possibly the whole series [again. Duh. Whole series] I need to prepare for the last book.)
The Dark Unwinding by Sharon Cameron (more Uncle Tully!)
The Treachery of Beautiful Things by Ruth Frances Long (lovely, fairy tale feeling book. And a standalone fantasy to boot!)
The Hunger Games by Suzanne Collins (didn't like it much until the movie)
Throne of Glass by Sarah J. Maas (possibly the whole series- I need to dive deep into this mythology and see if I like the first book more the 2nd time around)
A Game of Thrones by George R. R. Martin (but only if the book 6 date is released this year. I desperately want to reread the series but it's such a commitment that I want a goal to work towards.)
Are you participating in any 2015 challenges? Planning to read any of the same books as I am? Let me know!