Beautiful Creatures by Kami Garcia, Margaret Stohl
Series: Caster Chronicles #1
Buy the book! | Goodreads
Is falling in love the beginning . . . or the end?

In Ethan Wate's hometown there lies the darkest of secrets . . .

There is a girl. Slowly, she pulled the hood from her head . . . Green eyes, black hair. Lena Duchannes.

There is a curse. On the Sixteenth Moon, the Sixteenth Year, the Book will take what it's been promised. And no one can stop it.

In the end, there is a grave.

Lena and Ethan become bound together by a deep, powerful love. But Lena is cursed and on her sixteenth birthday, her fate will be decided. Ethan never even saw it coming.
Music Monday is a feature where I post a video of a song that reminds me of something or someone I've read…anything that relates to it in my mind.
What songs remind you of certain books or character?? Create a post and leave the link or just tell me about them in the comments. I'd love to know!!
When I heard A Mess to be Made by The Format, not for the first time mind you, there was one couple that came to mind: Lena & Ethan of Beautiful Creatures/Darkness by Kami Garcia and Margaret Stohl.

Here is why…

In the first book, Ethan dreams about Lena and as these being the first words in the song, you can see how I thought of this couple as soon as heard it:

"In a dream that I can't seem to shake she is,
she is standing alone
by the fence I see tears in her eyes
why she cries, I just don't know"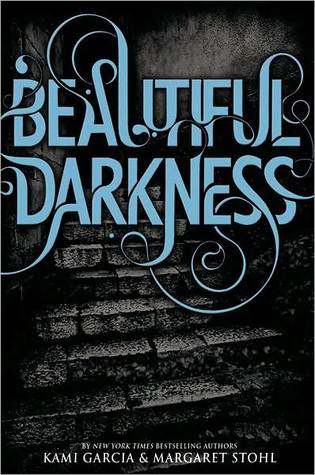 Beautiful Darkness (Caster Chronicles #2) by Kami Garcia, Margaret Stohl
Publication Date: October 12th 2010 by Little, Brown BfYR
In the second book, Lena spends most of the book leaving or gone and poor Ethan is so confused and sad! This made me think of him:

"So you're leaving for months at a time
I'll help you out the door
But once you're gone I just stare out the window
Won't you please come back home?"

And because Lena loves Ravenwood and Ethan loves Lena:

"I'd hate this place if it weren't for the waves
if it weren't for the fact that you love it."