All the Bright Places is a book that's going to mean different things to different people, but one thing is for sure, it's going to mean something. It has to. But first, you need to read it!
For me, All the Bright Places was a beautiful and sad story about two kids who are both suffering and how they come together. Their love story was sweet and romantic and it made me nostalgic. And even though they're together, they each go through different journeys during the time we know them. Experiencing one's path to recovery and the other's heartbreaking spiral was an eye-opening contrast on how having a supportive, open, attentive, involved family can save your life, and having the opposite can be your downfall.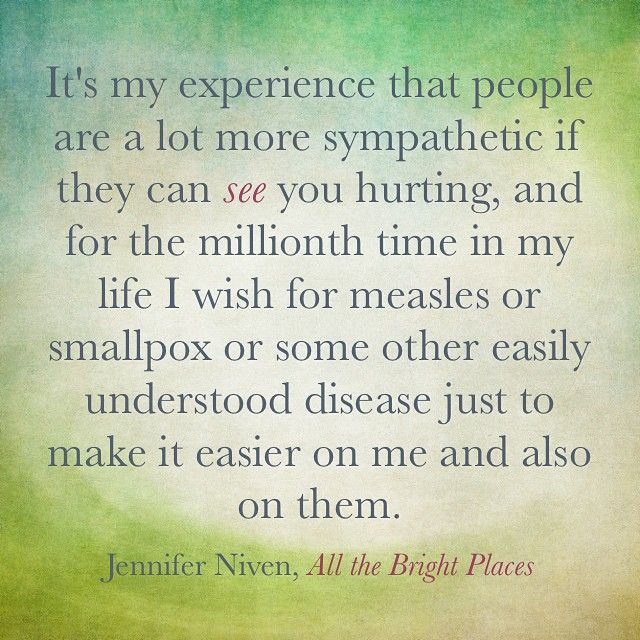 I hope everyone who reads this book sees everything it is saying about mental illness: things about having and dealing or not dealing with mental illness, things about the families of people suffering from mental illness, and about people who love those with a mental illness. It's hard. All of it is so hard. But you can see the possible outcomes of taking action or not, and wouldn't you rather just do the right thing for those you love?! Be aware, be proactive, look for signs, take these things seriously, and most importantly, just be there.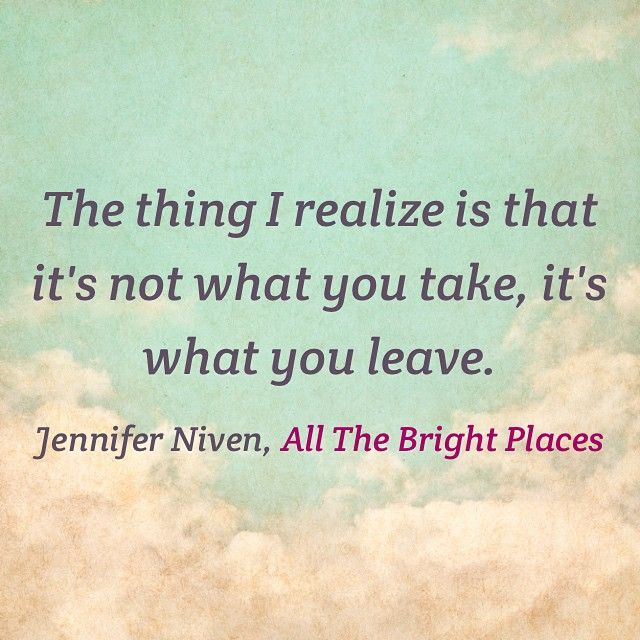 I listened to the audiobook version of this book and both narrators did SUCH an incredible job. Their performances really enhanced the story and made these characters seem so real. I highly recommend it.
And so, again, everyone should read this book. The sooner, the better! And I cannot wait to see the movie, which I hope really makes it justice.
Book Info
All the Bright Places by Jennifer Niven
Narrator: Ariadne Meyers, Kirby Heyborne
Published by Knopf BfYR
Pub Date: January 6th 2015
Pages: 384
Length: 11 hrs and 4 mins
Format: Audiobook | Source: Library
Genres: Contemporary, Young Adult
Buy the book! | Goodreads
The Fault in Our Stars meets Eleanor and Park in this exhilarating and heart-wrenching love story about a girl who learns to live from a boy who intends to die.

Soon to be a major motion picture starring Elle Fanning!
 
Theodore Finch is fascinated by death, and he constantly thinks of ways he might kill himself. But each time, something good, no matter how small, stops him.

Violet Markey lives for the future, counting the days until graduation, when she can escape her Indiana town and her aching grief in the wake of her sister's recent death.

When Finch and Violet meet on the ledge of the bell tower at school, it's unclear who saves whom. And when they pair up on a project to discover the "natural wonders" of their state, both Finch and Violet make more important discoveries: It's only with Violet that Finch can be himself—a weird, funny, live-out-loud guy who's not such a freak after all. And it's only with Finch that Violet can forget to count away the days and start living them. But as Violet's world grows, Finch's begins to shrink.

This is an intense, gripping novel perfect for fans of Jay Asher, Rainbow Rowell, John Green, Gayle Forman, and Jenny Downham from a talented new voice in YA, Jennifer Niven.