Atlantia by Ally Condie
Published by Dutton Juvenile
Pub Date: October 28th 2014
Pages: 368
Format: ARC | Source: Blog Tour
Genres: Dystopian, Young Adult
Buy the book! | Goodreads
Can you hear Atlantia breathing?

For as long as she can remember, Rio has dreamt of the sand and sky Above—of life beyond her underwater city of Atlantia. But in a single moment, all her plans for the future are thwarted when her twin sister, Bay, makes an unexpected decision, stranding Rio Below. Alone, ripped away from the last person who knew Rio's true self—and the powerful siren voice she has long hidden—she has nothing left to lose.

Guided by a dangerous and unlikely mentor, Rio formulates a plan that leads to increasingly treacherous questions about her mother's death, her own destiny, and the complex system constructed to govern the divide between land and sea. Her life and her city depend on Rio to listen to the voices of the past and to speak long-hidden truths.
Hi Ally! Thanks for being with us today!
Thank you for having me! I very much appreciate it! :)
1. First thing we must know is, would you choose to live Below or Above?
I would choose to live Above. I think I'd lose my mind if I had to live Below. I'd be way too worried that something would break! But I do think the Below is very cool. I can see why Rio and Bay love it so much.
2. If Above, what's the one thing you'd miss most from the world Below? If Below, what's the one thing you'd feel you missed out on in the world Above?
If I were Above, I think I would most miss the breathing of the city from the Below. I think that's the kind of thing that would really become a part of you.
If I were Below, I'd miss the sky the most, the sense of space.
3. There were a lot of neat inventions in the Below — metallic trees, robotic fish, drones! Which was the most fun to create?
Oh, thank you! I had the most fun with the trees and the fish, I think. I have some awesome inspiration pictures on my Pinterest board that I looked at a lot once I had the initial ideas. There really are some metal trees out there in the world (there's a particularly beautiful one in Austin, Texas) and I'd love to see them someday.
4. Atlantia is a standalone book, but you've also written a couple of trilogies, Matched and Yearbook. Do you now have a preference on writing standalones vs. series?
I can't believe you mentioned the Yearbook trilogy! No one ever knows about that series. ;) It's hard to say which I prefer because the most fun I've had writing has been the Matched Trilogy and Atlantia. So I couldn't pick, because they're both very different. Right now I'm working on another standalone, though, so maybe I'm having a slight preference toward that these days.
5. So what's next from you? Anything in the works?
Yes! I teased it a little bit above, but I'm working on a YA standalone, set in a very different world from Atlantia. It's been a book I've wanted to write for years, and I'm having a wonderful time with it so far. :)
Thoughts on Atlantia
Here at Gone with the Words, we claim TEAM BELOW! Oh, yes. They said the Above is hot and I was all noooooooo, sir. I live in Texas now and I know hot and do. not. want. more. So I signed myself up for the Below.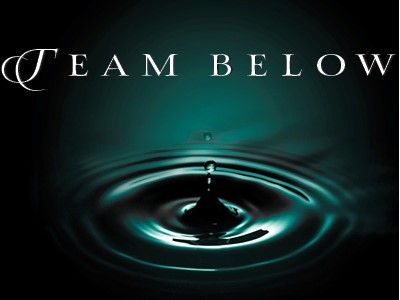 It's true. I've always wanted to live under the sea, like Ariel, and I was at one point fascinated with underwater cities/ruins. So, of course, I'd choose the Below! Once I started reading and learning all about it, I knew I'd made the right choice.
There were so many neat things down there! Now, the people running the show? Maybe not what they seem. The story is always building up, always moving. With Atlantia being a standalone book, Ally Condie did a great job with the pacing.
Rio was an interesting character because she's taught to pretty much make herself invisible for certain reasons, but her personality is not that at all. She's brave and confident. There's a little bit of love story, but it's definitely not the focus of the book.
Rio's mission to follow her sister and make it to the Above drives this story, and the secrets Atlantia and the people ruling it are keeping are a bit of a mystery. Not everything is as it seems, so it definitely kept me reading to find out the truth of it all.
Giveaway