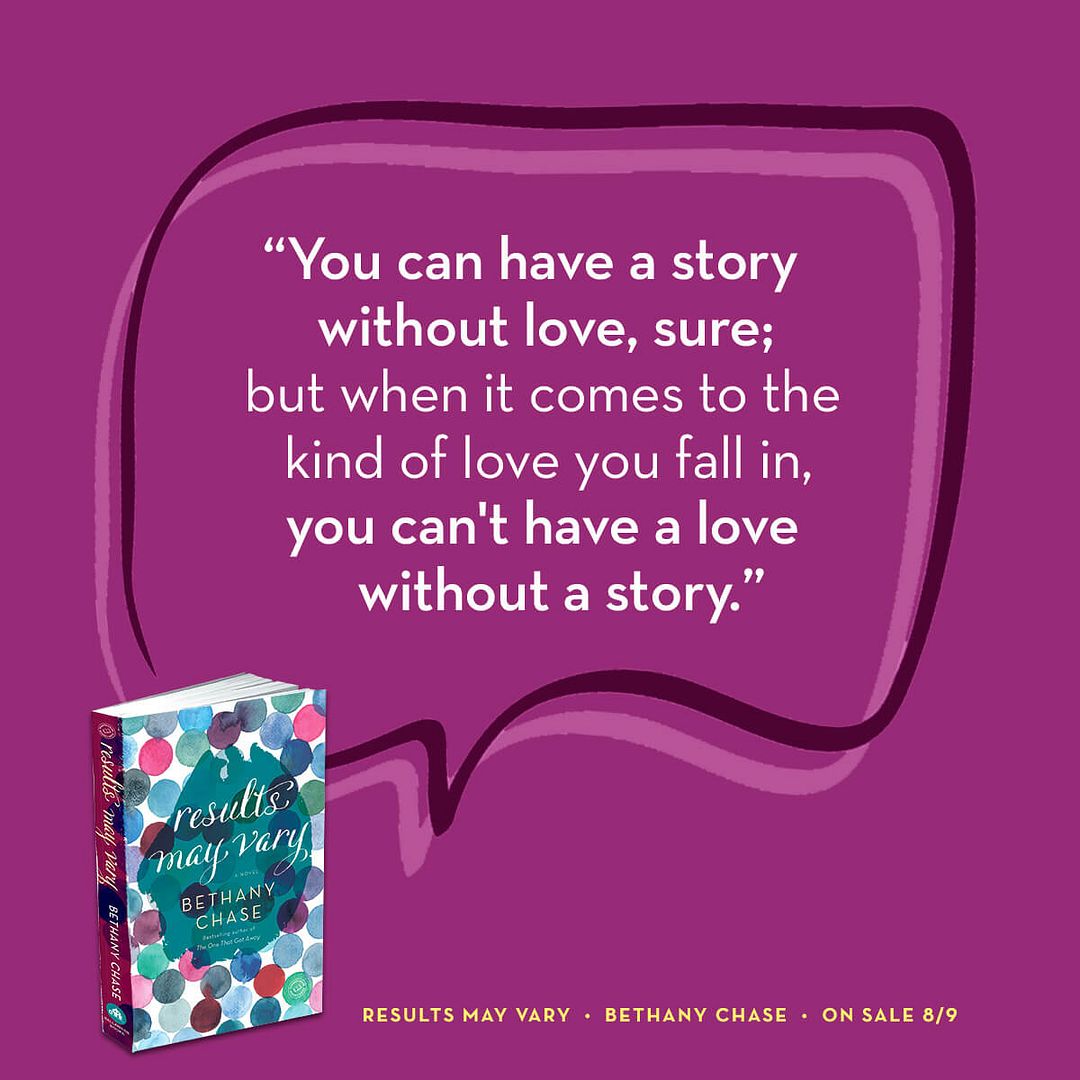 We've all heard the stories: after years of marriage, a husband finally admits to himself and to his wife and family that he's gay. Most recently you may have read about Trey Pearson, a Christian Rocker, who come out as gay and whose story really touched me. The difference here is that in Results May Vary the revelation wasn't as honest or heartfelt as Trey's was.
Results May Vary is about the fallout of a betrayal in a marriage. It's about how Caroline picks up the pieces of a life she was so secure in and how she comes to terms with the realization that she's never really known the person she loved and married. But it's also about all the good that will come after such a devastation.
If you've visited my blog in the last year, or even the past six months, you've probably seen me say at some point that Bethany Chase's debut, The One That Got Away, was a favorite read last year. This book is really different than that one. I loved Results May Vary in a completely different way. This is one of those books that really made me think about myself and the people I know, about the experiences in my life and how they've shaped who I am now. While reading I wondered, "What if that was my man? How would I react?" Devastated, for sure. But I would hope that above all I'd be kind. Caroline's journey through this was really heart-wrenching at times, but I really admired her in the end. I was glad that we got to see her go through so many ups and downs because it made her character more authentic. I was very happy with where this story left off and felt content, but at the same time I was left feeling like I was saying goodbye to people I knew in real life. They sure stayed in my mind for a long while after.
Results May Vary is easily my favorite book of the year so far, and I think it's going to be hard to top at this point. The writing is superb and the emotional depth really moved me. I hope you all run out and get a copy! Or you could try to win the extra one I unknowingly purchased, haha.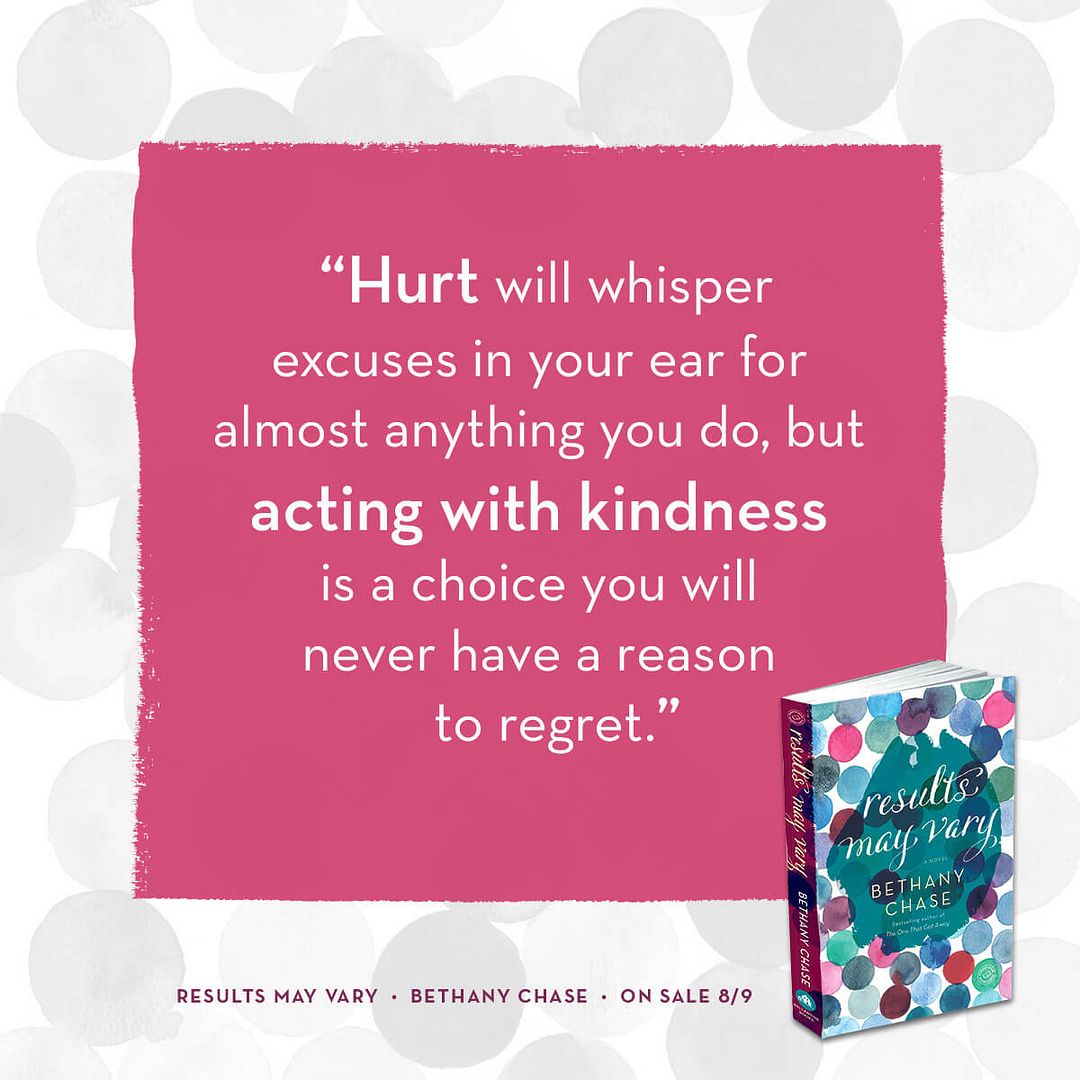 And now, here's Bethany Chase…
Writing Playlist – Results May Vary
This is an interesting thing to write about, because this book has such a different musical personality from my first book, The One That Got Away. When I was writing that, I was listening to a lot of classic soul and 70's rock (think Guardians of the Galaxy soundtrack), and that made its way into the book in many places. Results May Vary's playlist is a lot more eclectic, both on purpose and by accident.
Sugar & the Hi Lows, "Right Time to Tell You": This song is gorgeous. The melody and harmonies are about as pretty as it gets, and the lyrics are incredibly apropos to Adam's situation—the narrator has something to confess, has been waiting for the right time to do it, but no time is ever the right time.
Fountains of Wayne's gorgeous "Valley Winter Song": This is a quintessential New-England-in-winter song for me. It talks about short, dreary winter days and snowstorms and hanging in there till the summer. (True, perfect fact: the Fountains guys are Williams alums just like Caroline and me.)
Band of Horses, "No One's Gonna Love You": Really sums up Caroline's feelings toward Adam in the early part of the book.
Amos Lee, "Chill in the Air": Another beautiful breakup song (in this one, it's the steel guitar that cinches it), and a nod to Caroline's predilection for mopey singer-songwriters. I think Amos is fantastic, but the man sure can write a good mopey song.
The Grateful Dead, "Fire on the Mountain": This is one of my personal favorite songs that I was delighted to give to a character. I am only an entry-level Deadhead, but the guitar riff on this song is just so mellow and pretty that I could listen to it for hours. Or, you know, 13 minutes, which is the length of the longest live version of it that I own.
The Apache Relay, "Katie Queen of Tennessee": Very pretty little love song from one of Jonathan's favorite bands.
Jo Dee Messina, "Downtime": Ruby wasn't kidding that Jo Dee is the queen of upbeat breakup anthems. I've always loved this song because it's about the process of recovering yourself while you get over a breakup, which is really what the book is about. I especially love the line where she says "Your memory's taking second to a good book and a nice, long bath."
Duke Ellington, "Jeep's Blues": this piece gets a very specific call-out in the book because good lord, is it sexy. I've always thought blues is the sexiest music there is. (And this stood me in good stead when one of the questions on my online dating survey was "What's your favorite music to get you in the mood" and I referenced something about one of the Allman Brothers barn-burners, which impressed the musician who is now my husband.)
Rodgers & Hart, "Bewitched, Bothered and Bewildered": I have an Ella Fitzgerald recording of this song that is one of my favorite all-time pieces of music. Ella's voice is so beautiful, and the song's lyrics have this sly, witty charm that—yes, I sound like an old person—you so rarely find anymore. "I'm wild again, beguiled again, a simpering, whimpering child again…" It's such a great description of being infatuated.
First Aid Kit, "Emmylou": Stunning harmonies in this song, and sweet, upbeat lyrics that remind me of Caroline and Neil. Especially where she says "I'm not asking much of you, just sing, little darling, sing with me" and "Things just don't grow if you don't bless them with your patience."
Giveaway
Paperback copy of RESULTS MAY VARY by Bethany Chase

Book Info
Results May Vary by Bethany Chase
Published by Ballantine Books
Pub Date: August 9th 2016
Pages: 336
Format: ARC | Source: Publisher
Genres: Contemporary, Women's Fiction
Buy the book! | Goodreads
Can you ever really know the person you love?

She never saw it coming. Without even a shiver of suspicion to warn her, Caroline Hammond discovers that her husband is having an affair with a man—a revelation that forces her to question their entire history together, from their early days as high school sweethearts through their ten years as a happily married couple. In her now upside-down world, Caroline begins envisioning her life without the relationship that has defined it: the loneliness of being an "I" instead of a "we"; the rekindled yet tenuous closeness with her younger sister; and the unexpected—and potentially disastrous—attraction she can't get off her mind. Caroline always thought she knew her own love story, but as her husband's other secrets emerge, she must decide whether that story's ending will mean forgiving the man she's loved for half her life, or facing her future without him.

Compassionate and uplifting, Results May Vary is a bittersweet celebration of the fact that in love and in life, we rarely get exactly what we bargained for.