I loved Sharon Cameron's debut The Dark Unwinding and its sequel, A Spark Unseen, so I was sure I would love Rook too! It's a Scarlet Pimpernel retelling set in an alternate Parisian dystopian future that reads more like historical fiction- it feels like the French Revolution. In other words, it's very unique and very wonderful.
The pacing plods a bit in the middle but for the most part the adventure is thrilling, the stakes are impossibly high, and the romance is swoonworthy. Sophia is an exemplary heroine who is at once easy to relate to and braver than I could ever be. The cat-and-mouse game throughout the book led so much tension to the story as well! You never knew who you could trust and that made it exciting.
The world building also made a lot of sense and I like how we slowly learned more about the world of Rook as the story progressed. It takes place about 1,000 years after the modern day; polar shifts caused massive solar radiation and the elimination of all things digital and electronic, including satellites crashing to Earth. They refer to this period as the Time Before, and to "us" as the Ancients. Parts of the story take place in the Commonwealth and the rest in the Sunken City (aka Paris).
I wanted to highlight some of my favorite quotes that illustrate this unique otherness of a future historical.
"Tom's sanctuary, as he called it, deep beneath Bellamy House, a room that was nothing but Ancient. Light moved over walls tiled with white and artificial red- the red seen only in artifacts from the Time Before- arched doorways block with gray stone…" p. 70, finished copy

In this same chapter King's Cross is mentioned (p.74) and the fact that Bellamy House was built on top of a town or city before the cliffs existed, which leads me to believe this is in fact London! And that his hideout is a former Underground station!
"He thought the cross and brightly colored pieces were meant to be pushed, though for what purpose neither of them could imagine and he'd had no success looking for the word 'Nintendo' in the university archives. It was beautifully worked, though. Like a piece of art." p. 71, finished copy

This made me giggle and I read it aloud to my husband- it's a video game controller! From the more detailed description, I think it's an N64 controller.
It was really fun to pick out all of these allusions to very common place things in our society- including magic disks with thousands of pictures hidden inside. It helped remind me that this was in fact, a future setting because the 18th century French historical aspects were so convincingly well-done.
And just for funsies, I had to cast Sophia Bellamy, her brother Tom, and the striking Rene Hasard!
Minka Kelly as Sophia Bellamy: Sophia is described as an 18 year old with caramel skin, deep brown eyes, and soft brown curls, not to mention a hell of a lot of gumption.
Sam Claflin as Tom Bellamy: Tom looks just like his sister, so much so that they could be twins.
Gabriel Aubrey (with a little color correction) as Rene Hasard: Rene is a bit older than Sophia with dark russet hair and very blue eyes.
A second excellent choice would be Sam Heughan but he's busy being everyone's favorite Scot Jamie Fraser. This picture of Sam and Catriona Balfe does remind me of Sophie and Rene, however! Mainly the chemistry and expressions; they capture their spirit so well.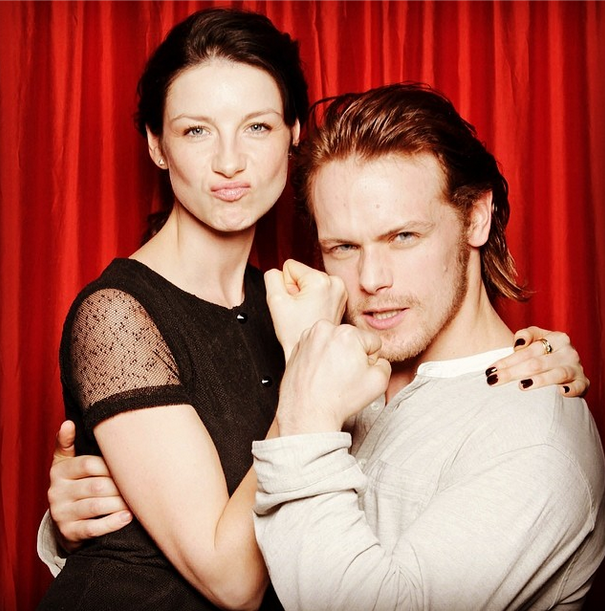 If you love great storytelling, strong and secretive characters, romantic sizzle, historical France, or spy adventures, you have to read Rook!
Book Info
Rook by Sharon Cameron
Published by Scholastic
Pub Date: April 28th 2015
Pages: 456
Format: ARC | Source: Publisher
Genres: Dystopian, Fantasy, Young Adult
Buy the book! | Goodreads
History has a way of repeating itself. In the Sunken City that was once Paris, all who oppose the new revolution are being put to the blade. Except for those who disappear from their prison cells, a red-tipped rook feather left in their place. Is the mysterious Red Rook a savior of the innocent or a criminal?

Meanwhile, across the sea in the Commonwealth, Sophia Bellamy's arranged marriage to the wealthy René Hasard is the last chance to save her family from ruin. But when the search for the Red Rook comes straight to her doorstep, Sophia discovers that her fiancé is not all he seems. Which is only fair, because neither is she.

As the Red Rook grows bolder and the stakes grow higher, Sophia and René find themselves locked in a tantalizing game of cat and mouse.
Have any of you read Rook? Do you plan to? Let me know!