Wink Poppy Midnight is not like any other books I've read lately. The story is about three teens, Wink, Poppy, and Midnight. Each of them is very different and has their own story to tell. April Genevieve Tucholke's writing style is mesmerizing. The whole book read like a lovely poem. This story was beautiful and addictive.
Poppy is a mean girl. She's cruel and a bully, she has her own little group of followers called the Yellows that she loves to boss around and play games with. Midnight is in love with Poppy, but he doesn't want to be. He sees the kind of person she is and he is trying so hard to break away from her and her manipulations. That's when he meets Wink. Wink is one of the Bell children. She has the nickname "Feral Bell" because most of the other kids her age think she's a little weird. She loves fairy tales and reading about adventures in books. When Midnight moves in next door she thinks it's a sign that her own adventure is starting.
We follow all three of these characters throughout the book and get to see the story through each of their viewpoints. I enjoyed the different narrators and they all have such independent voices. You could tell who's point of view it was without seeing the names in the beginnings of the chapters. Midnight is the main character, caught between two girls and trying to start over. I liked Midnight and felt his struggle when it came to Poppy and Wink. He is a nice guy and just wants to be with someone who actually wants him back. Poppy is easy to hate, she's mean, cruel, and loves to play games. As the story goes on you start to see Poppy as more than just a mean girl and even start to sympathize with her at certain points. Wink is a strange character, she is obsessed with fairy tales and making real life just like a story. She seems too naive and childlike to be real. At times I just couldn't take her character seriously at all, and she kind of annoyed me.
The messy little triangle between Poppy, Midnight, and Wink is really interesting. Poppy is determined not to lose Midnight, not because she loves him but just because she hates to lose. Midnight tries so hard to stay away from Poppy and he genuinely likes Wink and wants to spend time with her. At the beginning of the book, it seems pretty clear that Poppy is the villain and Midnight and Wink might be the heroes of the story. As the book goes on it becomes harder and harder to tell who's the villain and who's the hero. The lines get really blurry and it's hard to trust any of our narrators.
When I finished this book I realized there are no heroes or villains, just people with different motivations. It's hard to point out who's right or wrong in the end, everyone has their own baggage and does questionable things. I enjoyed the plot twist, which I didn't see coming. The writing was enthralling and just drew me in. I loved the lyrical prose throughout the book and it just added to the atmosphere the author was building throughout the story. I recommend this book to anyone who likes a mystery and a story that's a little out there.
And the perfect gif to sum up this story…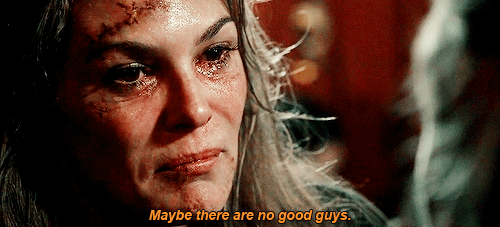 Book Info
Wink Poppy Midnight by April Genevieve Tucholke
Published by Dial
Pub Date: March 22nd 2016
Pages: 247
Format: Hardcover | Source: Purchased
Genres: Contemporary, Mystery, Young Adult
Buy the book! | Goodreads
Every story needs a hero.
Every story needs a villain.
Every story needs a secret.

Wink is the odd, mysterious neighbor girl, wild red hair and freckles. Poppy is the blond bully and the beautiful, manipulative high school queen bee. Midnight is the sweet, uncertain boy caught between them. Wink. Poppy. Midnight. Two girls. One boy. Three voices that burst onto the page in short, sharp, bewitching chapters, and spiral swiftly and inexorably toward something terrible or tricky or tremendous.

What really happened?
Someone knows.
Someone is lying.