Royally Lost by Angie Stanton
Published by HarperCollins
Pub Date: May 6th 2014
Pages: 336
Format: eARC | Source: Blog Tour
Genres: Contemporary, Young Adult
Buy the book! | Goodreads
Dragged on a family trip to Europe's ancient cities, Becca wants nothing more than to go home. Trapped with her emotionally distant father, over-eager stepmother, and a brother who only wants to hook up with European hotties, Becca is miserable. That is until she meets Nikolai, a guy as mysterious as he is handsome. And she unknowingly finds herself with a runaway prince.

Nikolai has everything a guy could ask for-he's crown prince, heir to the throne, and girls adore him. But the one thing he doesn't have…is freedom. Staging a coup, he flees his kingdom and goes undercover on his own European tour.

When Nikolai and Becca meet, it's their differences that draw them together. Sparks fly as they share a whirlwind of adventures, all the while dodging his royal guard. But Becca's family vacation ends in a matter of days. Will Nikolai and Becca be forced to say goodbye forever, will his destiny catch up to him, or will they change history forever?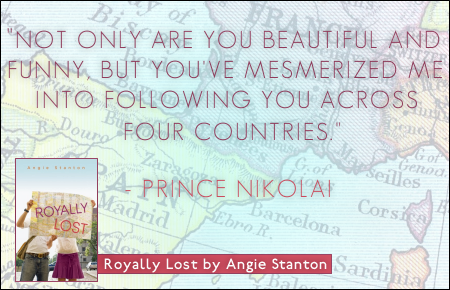 Guest Post
Food, food, and more food!
What's a vacation without food and our recent fascination to take pictures of it? While doing research for Royally Lost, I was amazed at how food is displayed and sold in Europe. There are a lot of open-air markets with food sold in bulk. Here are some pictures from the Naschmarkt in Vienna where Nikolai and Becca spend time.
I love food, and the first thing I do when I get to a new city is to look at the restaurant choices. I'm kind of picky, but I love anything with a good sauce. Germany is known to have a lot of heavy food with sauces, num! And everywhere I went and ordered a Coca-cola light, (not much Diet Pepsi where we traveled) they served it in an old fashioned Coke glass.
Regensburg, Germany supposedly has the world's oldest sausage kitchen. Of course, we stopped and the food was delicious! They also sold their famous Regensburg mustard. We brought several jars back.
The next city, Nuremberg, also claimed to have the world's oldest sausage kitchen, too. Hmm. We decided there was probably one in every tourist town.
Thanks so much for hosting me on your blog today. I hope everyone enjoys reading Royally Lost as much as I enjoyed writing it.
Giveaway