I'm SO excited to have Marie Lu guest post on the blog today! I'm a huge fan of hers and this list was totally entertaining. And SPOT ON.
Slasher Girls & Monster Boys by Marie Lu
Published by Dial
Pub Date: August 18th 2015
Pages: 400
Format: Hardcover | Source: Blog Tour
Genres: Young Adult
Buy the book! | Goodreads
For fans of Stephen King, Neil Gaiman, Lois Duncan, and Daphne Du Maurier comes a powerhouse anthology featuring some of the best writers of YA thrillers and horror

A host of the smartest young adult authors come together in this collection of scary stories and psychological thrillers curated by Between the Devil and the Deep Blue Sea's April Genevieve Tucholke.

Each story draws from a classic tale or two—sometimes of the horror genre, sometimes not—to inspire something new and fresh and terrifying. There are no superficial scares here; these are stories that will make you think even as they keep you on the edge of your seat. From bloody horror to supernatural creatures to unsettling, all-too-possible realism, this collection has something for any reader looking for a thrill.

Fans of TV's The Walking Dead, True Blood, and American Horror Story will tear through tales by these talented authors:

Stefan Bachmann
Leigh Bardugo
Kendare Blake
A. G. Howard
Jay Kristoff
Marie Lu
Jonathan Maberry
Danielle Paige
Carrie Ryan
Megan Shepherd
Nova Ren Suma
McCormick Templeman
April Genevieve Tucholke
Cat Winters
This year, I was lucky enough to be invited to write a short horror story for the anthology Slasher Girls & Monster Boys. Well, I did–and I'm psyched to be among such a fantastic crew of authors for this collection that comes out Aug. 18! We're doing a blog tour in its honor, and now it's my turn. So……let's talk scary things.
I'm kind of a scaredycat. Show me the screenshot of something spooky, and I'll be tiptoeing around my house for the rest of the night. But some part of me loves that little thrill, the feeling of the hairs going up on the back of my neck, the chill at a particularly eerie sentence. Without further ado, here are 10 Things That Scare Me:
10. Nursery Rhymes
Ring Around the Rosy = bubonic plague.
Jack and Jill = the beheading of King Louis XVI and Queen Marie Antoinette.
Peter Peter Pumpkin-Eater = a man who kills his wife for cheating.
Remind me again why we sing these to kids? I remember being creeped out by them at a very early age….probably thanks to horror movies that always use them in their openings.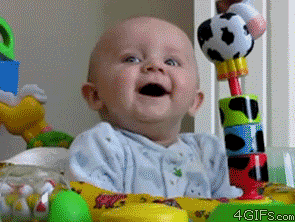 9. Bilbo Baggins
Don't lie. When you were watching the first Lord of the Rings movie, you did NOT see this moment coming.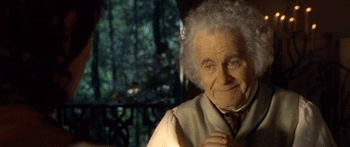 8. Spiders
I'm not going to shriek my head off and jump on a chair if I see a spider. But if I find myself in the town of Goulburn, Australia, when millions of tiny spiders are literally raining from the sky , well….I might scream a little.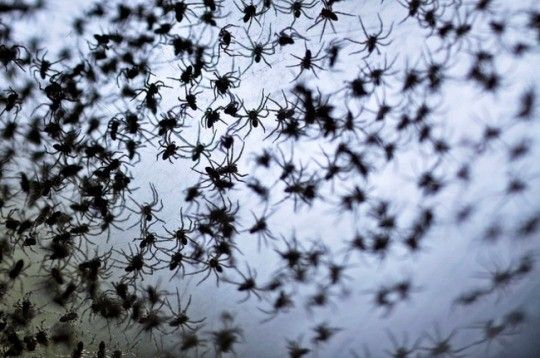 7. House of Leaves (by Mark Z. Danielewski)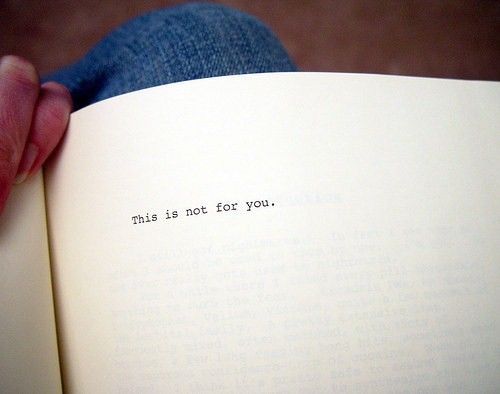 With a dedication like that, how could I be creeped out? This book is about a couple who move into a house that is larger on the inside than it is on the outside. It is written like a composite of found documents and typographic strangeness. It is….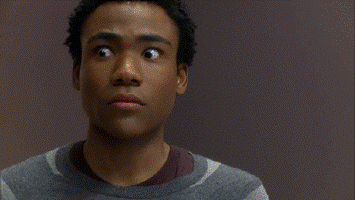 6. The Pale Man from Pan's Labyrinth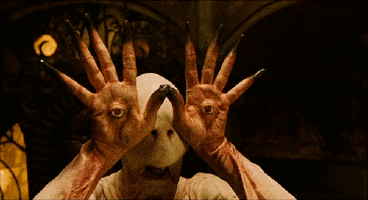 Which makes me go
(Also, Pan's Labyrinth a beautiful, heartbreaking, eerie, amazing movie. Guillermo del Toro never steers me wrong.)
Two sentences are all that's needed. Beautiful freaky simplicity. I mean, just check this one out:
"There was a picture in my phone of me sleeping. I live alone."
Or this:
"I never go to sleep. But I keep waking up."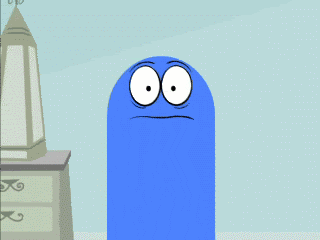 Yesterday, upon the stair,
I met a man who wasn't there.
He wasn't there again today,
I wish, I wish he'd go away
This part of the poem gets to me every time. In fact, I am typing this in the late afternoon, and already I'm staring warily at the stairs near the door.
3. Stephen Gammell
Even if you don't recognize the name of this artist, you know his art. Remember his work in Scary Stories To Tell In The Dark? I used to have to cover his images in the books with a thick sheet of paper, because otherwise I couldn't bear to read the story accompanying it at all. (Out of politeness, I'm not posting the one image we ALL remember, and that we ALL covered up. But I'll link it.)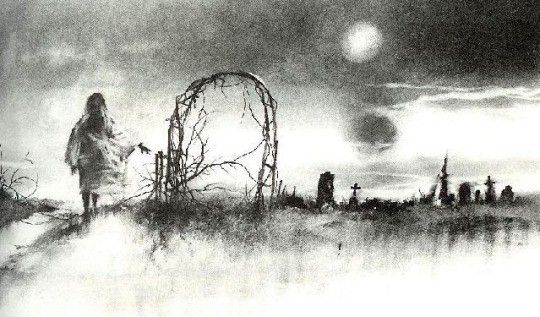 Yeah–I think the reason the books now have new art is because Stephen's masterpieces gave too many kids traumatic nightmares.
2. P.T.
Okay. P.T. was released on the Playstation 4 in summer 2014. It was supposed to be an interactive, free playable teaser (hence the name) for another game, which I won't give away so as not to spoil you. When the full game itself was cancelled, P.T. was pulled from the Playstation store….but not before enough people discovered that it is SCARY AS HELL. It has since developed a cult aura around it. Because, again, it is SCARY AS HELL.
You can still watch some walkthroughs of it on YouTube. In short, you start out by walking around in a house's corridor at night. Strange sounds and sights happen as you explore. When you turn enough corners, you will…..find yourself right back in the corridor where you started. Over and over again. Things go downhill from there.
Yeah.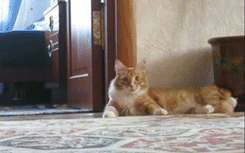 Aaaaand #1……
1. The open ocean….at night
This is my most horrible nightmare–floating in the open ocean, alone, at night, so that when you look down, you can see nothing but black, murky depths extending forever. OH MY GOD.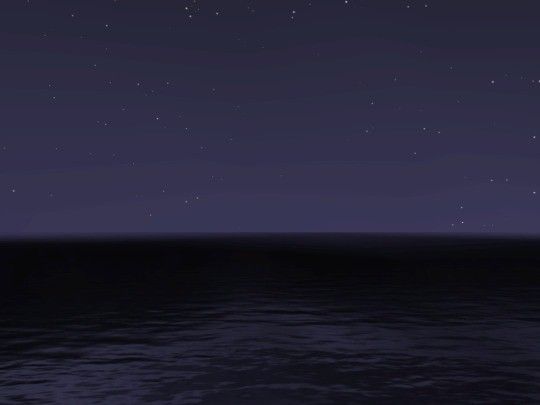 I rank this equal to being burned alive as one of the worst ways to die. (There is a reason why, in The Young Elites, I created the Underworld as a deep, neverending ocean.)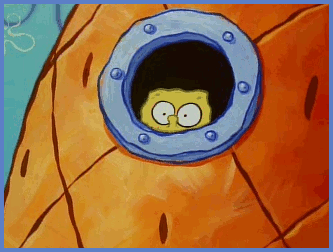 And now that I've thoroughly creeped myself out, I'm going to go find some ice cream and hide in my bed with a bat.