Library Browsing
Unspoken by Sarah Rees Brennan– it's so hard to remember whether I was reading book blogs at this point; I might have been? In any case, I saw the original cover online and loved the idea of a dream boy being real, so I found it at a library nearish me and drove to get it. BEST DECISION. It's a really fantastic trilogy.
Long Lankin by Lindsey Barraclough– one of my best finds!! I drove to the library in the next county to pick up Unspoken and when I was there, I found this on the shelves. It looked so intriguing and creepy, and the tagline really got me! It is by far my favorite horror book, I can't believe I managed to read it at night.
A Curse Dark As Gold by Elizabeth C. Bunce– I had never read a Rumplestiltskin retelling before and I can never resist a fairy tale, esp with historical influence. Plus I tend to love Scholastic titles.
Courtship and Curses by Marissa Doyle– it's hard to resist magic and Regency England and this was a super charming, funny book that I love to recommend now.
Bookstore Browsing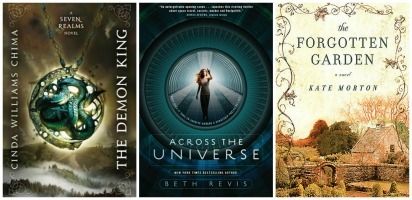 The Demon King by Cinda Williams Chima– this has to be one of the first YA books I read when I started really reading YA. I remember finding it in Barnes & Noble and being intrigued by the cover/synopsis. And no one at the store could tell me anything about it! Luckily I took the chance because it's an awesome series.
Across the Universe by Beth Revis– another one of my first YAs (December 2011-January 2012 is when I really started digging in). I found the cover with the running girl at Barnes & Noble and promptly got the sequel from the library because I loved it so much!
The Forgotten Garden by Kate Morton– I picked this up and put it back a few times actually! I loved the cover but wasn't completely sold on the synopsis. Luckily for me, I bought it on a summer trip with my family and discovered a new favorite author.
Recommendations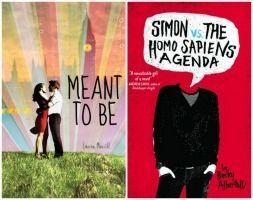 Meant to Be by Lauren Morrill– I specifically remember reading a MTB review on Christina's blog and knew that I had to finally try YA contemporary. Plus that cover!! Pastel, pretty London. I might have bought it for those two reasons alone ;)
Simon vs the Homo Sapiens Agenda by Becky Albertalli– this is another favorite that I purchased solely based on the overwhelming number of great reviews from trusted bloggers/friends. Hype gets to me sometimes but I think this was early enough where it just made it sound super appealing instead. And it was!! So glad I made a rash purchase for once :)
Blurbs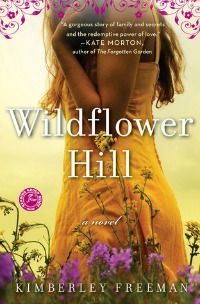 Wildflower Hill by Kimberley Freeman– 100% picked this up because Kate Morton, my very favorite author, blurbed it; pretty sure I saw it on an endcap in Target! If a book is blurbed by her or "for fans of Kate Morton", I will read it.