Young Adult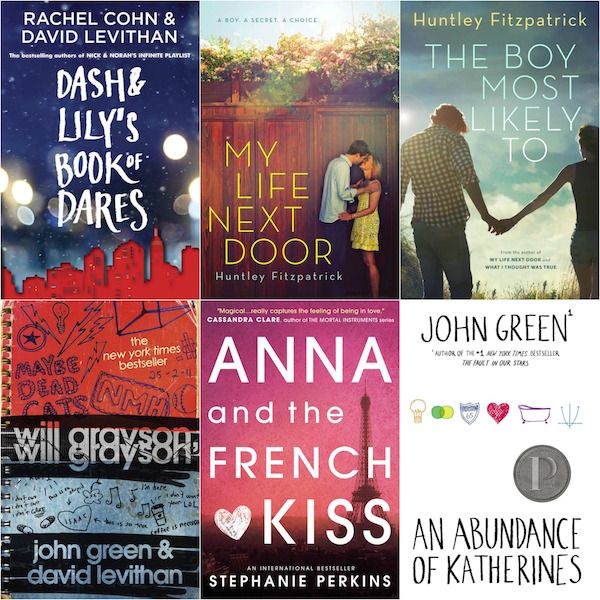 Dash & Lily's Book of Dares by Rachel Cohn, David Levithan – If you can, LISTEN TO THIS AUDIOBOOK. I first read it and really liked it, but it wasn't until I re-read it through audio that I realized its genius, and that genius lies in the words written by Rachel and David. They made me laugh out loud so much!
My Life Next Door AND The Boy Most Likely To by Huntley Fitzpatrick – There's no way to include one of these books without the other. And really what makes them so funny are the Garretts. That family is just a delight, especially the little ones. So many chuckles!
Will Grayson, Will Grayson by John Green & David Levithan – Two words: Tiny. Cooper.
Anna and the French Kiss by Stephanie Perkins – Anna is just a funny character. Her observations and thought process def made me laugh a lot throughout.
An Abundance of Katherines by John Green – It's been a long time since I read this one but one thing I do remember is how funny it was. Maybe a re-read is due! Still recommend it. :)
Adult
Austenland by Shannon Hale – This book was just such a delight! AND THE MOVIE! So, so good!
The Best Man by Kristan Higgins – To be honest, I've yet to read a book by Kristan that doesn't make me laugh, but this one really really did. I love all of her books!
Simply Irresistible by Jill Shalvis – This was my first Jill book and it was so cute, funny, and sexy!
Exclusively Yours by Shannon Stacey – Another great contemporary romance with hilarious circumstances. I just loved this one!
Succubus Blues by Richelle Mead – The only non-contemporary on this whole list! This whole series has a cast of characters that I came to love because of their sense of humor. Richelle Mead just knocked it out of the park with this series. The love story is also really, really great.
What are some books that have made you chuckle? Did any of these?