SO! Between four of us here at Gone with the Words, we somehow managed to pick a lot of the same books, lol. That's why we get along so well around here. Here's what we picked!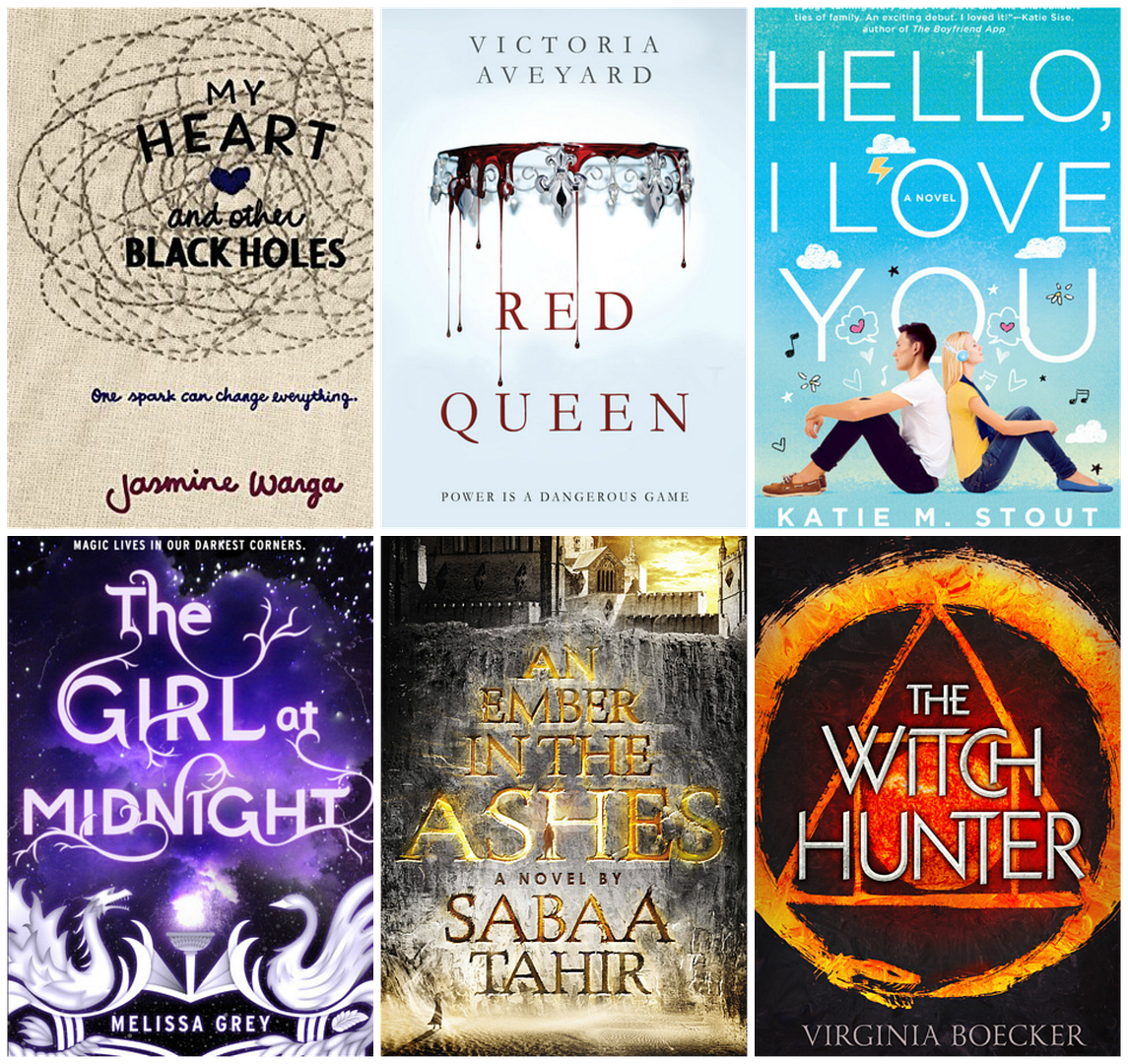 Jess
The Girl at Midnight by Melissa Grey – It's time for another great Urban Fantasy in YA. I hope The Girl at Midnight delivers because I loved City of Bones. Plus! They're talking about people with powers and FEATHERS FOR HAIR. It sounds awesome.
An Ember in the Ashes by Sabaa Tahir – This sounds pretty damn intense. I like the "Rome-like world" description. I don't think I've read something else like it, so I'm pretty excite.
Hello, I Love You by Katie M. Stout – This just sounds like SO MUCH FUN!! So, yes, please!
Lety
Red Queen by Victoria Aveyard – This series sounds like it's going to be pretty amazing. It looks to be a high fantasy dystopian series with lots of power struggles and romance. I hear there is a love triangle, and though some days I am completely over them, if they are done well, they sometimes make the story more interesting. I read a few early reviews of praise for Victoria Aveyard so I am excited to read her work. This book releases on February 10, 2015.
My Heart and Other Black Holes by Jasmine Warga – Get the tissues out folks, we're going on a feels trip with this one! This book puts an unthinkable subject right at the forefront: suicide pacts. That isn't a topic I normally want to read about but the way the book summary reads it sounds like it might also be full of hope. I did say I wanted to branch outside of my normal reading comfort zone and this might be the one to do it. Jasmine Warga has already captured my attention by what she chose to write about and this is definitely one of the first books I'd like to read in 2015. This book releases February 10, 2015.
The Girl at Midnight by Melissa Grey – This new debut series is about an ancient race hidden among the humans and a girl who seems to be a part of both worlds that gets caught up in an ancient war. There are fantasy elements and mythical creatures, and lots of spunk I hear, and well color me intrigued folks! This plot may remind you of other notable series, and it has had some pretty great reviews so far. I am very interested in reading this novel and seeing what kind of fantastical world Melissa Grey has cooked up for us! This book is expected to release April 28, 2015.
Tamara
The Witch Hunter by Virginia Boecker – A witch hunter who is then accused of being a witch, that's all I had to know to want to read this book.
Red Queen by Victoria Aveyard – The blurb says Graceling meets The Selection, yes please! Red Queen sounds like exactly what I'm looking for in a new series.
The Girl at Midnight by Melissa Grey – This book sounds like a wonderful modern day fantasy with an ancient war and magic. The synopsis reminds me of Daughter of Smoke and Bone which makes me really excited because I love that series.
Morgan
The Witch Hunter by Virginia Boecker – I'm a lucky duck with an ARC on page 13 and basically you should ALL be anticipating this debut novel! It is super awesome already and it sounded amazing before. Witches, witch hunters, ghosts, pirates, blood, kings, kickass ladies, hot guys, alternate history, and history jokes. What's not to love?
An Ember in the Ashes by Sabaa Tahir – "Terrifyingly  brutal Rome-like world" is all I needed to hear. Gladiator is my favorite movie and I love ancient history so what could be better than a fantasy world inspired by those things? Plus the cover is amazing and so are the early reviews. I'm very excited to meet Laia and Elias!
Hello, I Love You by Katie M. Stout – A teen in boarding school, a Korean pop star, and a novel "in the vein of Anna and the French Kiss." Plus the author agreed with one reader's description of it as "the country, Asian, YA pop version of Pride and Prejudice." OH MY GOD GIVE IT TO ME NOW. I'm also interested to read a book set in Korea! And that cover is too darn cute.