Happy Tuesday, friends!! We've each picked three of our top reads of 2014 just. for. YOU! :) Do we share any favorites?? Let us know! :D
Looking for Alibrandi by Melina Marchetta – Oh, this book was just <3333 All the love. I can't believe I waited so long to read anything by Melina Marchetta.
One Plus One by Jojo Moyes – You guysssssss!! This book had me smiling and shedding tears then laughing, then laughing with tears in my eyes. It was perfect.
The Winner's Curse by Marie Rutkoski – THAT DAMN LAST LINE IN DA BOOK, Y'ALL. </3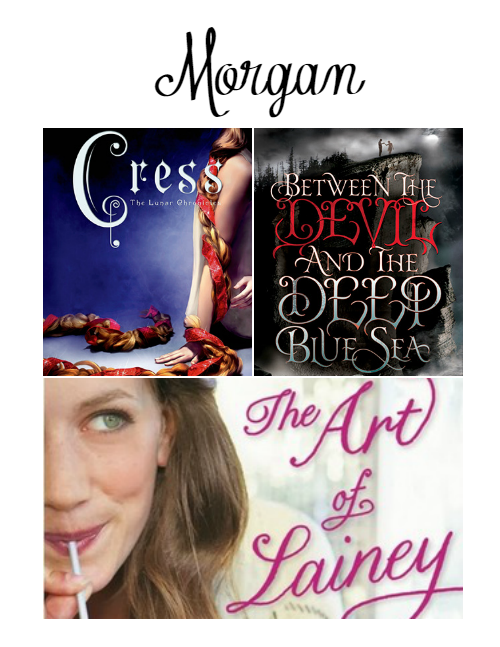 Cress by Marissa Meyer – THIS SERIES! It gets better with every book. Cress herself I loved! I thought she was so believable. It was also soooo cool to see the characters all together! Eeee like the Lunar Avengers or something :D Pretty much everything about this book was wonderful: the pacing, the action, the close-calls, the romance, the revelations. Secrets upon layers of secrets. And the glimpse of Winter!
The Art of Lainey by Paula Stokes – I loved the premise, which was clever. I loved Lainey's character arc, which was completely believable. I loved her spacey family. I loved her chemistry and banter with Micah. I LOVED MICAH. Oh my god. I tend to judge contemporary romances on whether it'd be a good romantic comedy movie, and how many swoopy, butterfly feelings I get in my stomach. How much I smile and swoooon. And um yeah, this book had a lot.
Between The Devil and the Deep Blue Sea by April Genevieve Tucholke – A terrifying, sensual, disturbing, and pretty damn great book. I loved her crisp but dreamy writing; it was visceral and perfectly detailed. I could smell the salty sea air and taste the iced tea. And damn if River wasn't one of the most confusing, wonderful, terrible characters I've ever read about. This book was super creepy and I loved it!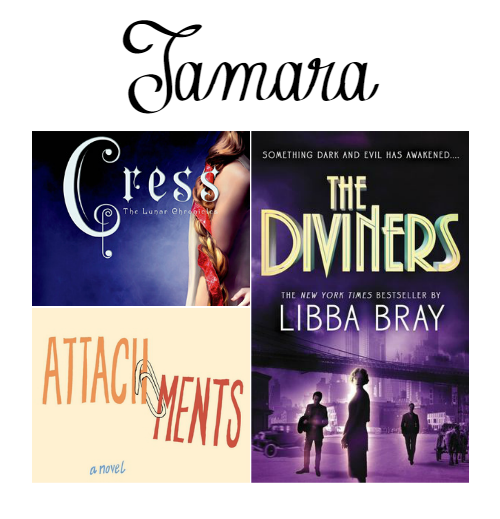 The Diviners by Libba Bray – I'll admit the size of this book scared me for a long time, but I'm glad I finally gave in and read it. It was so amazing that once I started reading the pages just flew by. Just the right amount of creepiness and intrigue.
Cress by Marissa Meyer – I just love this series. Every new character brings something special to the mix. Even though these stories are fairy tale retellings every book feels completely fresh and unique, and they have a little bit of everything, from sci fi to romance.
Attachments by Rainbow Rowell – This is by far my favorite Rainbow Rowell book. I thought nothing could top Fangirl, but Attachments was just perfect in every way. I loved all the emails and how we really got to know the characters through them. This is basically the book version of a romantic comedy but ten times better.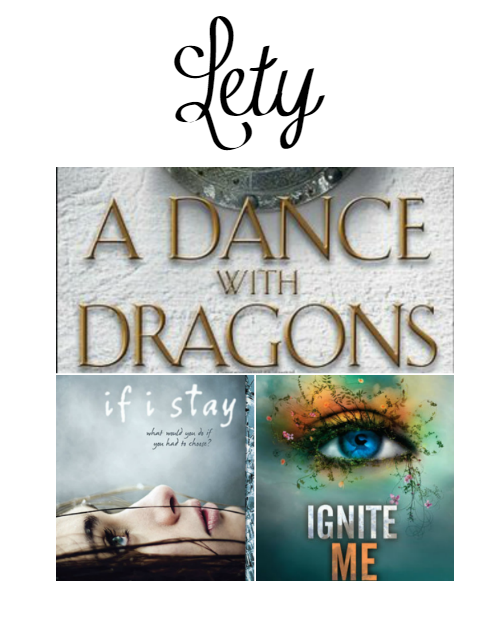 Ignite Me by Tahereh Mafi – I could NOT wait to get my hands on this book this year! I was so excited to read the finale to this great trilogy and it did not disappoint. I know, I know, the ending did not live up to everyone's expectations but I was totally on board with it. I also can't believe this series is over *sad face* :( This whole series was fantastic and I am so in love with the writing. This series is hands down one of my favorites… EVER!
A Dance with Dragons by George R.R. Martin – I put off reading this fifth installment in this series because I knew that there were no more published novels after this one. I couldn't wait any longer, and after the season 4 finale I jumped right into this book and was hoping to get a lot of my questions answered. I didn't get all the answers, but it was an exciting read and has me jumping out of my skin to read the next. I might be waiting a while though. :/ I am also happy I can browse the ASOIF forums without the fear of reading spoilers. YAY!
If I Stay by Gayle Forman – I knew going into this book that it was going to be emotional, but ohemgee it was like my eyes turned into faucets and I couldn't stop the water flow!! I cried so much reading this book and I loved this series! This first one was my favorite of the series and I pretty much read it in one sitting.