Today, some of us had more to say than others, lol. Are you guys wishing and/or hoping for any of these titles?? Let us know!
To All the Boys I've Loved Before by Jenny Han – The last time I read anything by Jenny Han was the Summer series and I think it's time I read another one! Jenny has this incredible way of story-telling that is both sweet, charming and pretty breath-taking. The premise to this book sounds pretty disastrous… and embarrassing… and sweet, and I think it would definitely be worth my time to read. So Santa, I think I've been a good girl this year… bring me some Jenny Han!!
Shadow and Bone by Leigh Bardugo – I've seen this book mentioned on a few TTT lists this year and decided to look into it recently. The premise of the first book sounds pretty intriguing and right up my alley! It seems to be filled with adventure, fantasy, romance, magic and the paranormal which are all the things I love in books! Santa must know how this book would be just perfect for me to read, right? I'm hoping it shows up under my tree!
Bitten by Kelley Armstrong – I recently binge-watched the Canadian television series, Bitten, that was created from this book series that Jess recommended to me, and the show was fantastic! I am curious to know what happens next and I must start reading this book series immediately. I'll have my hands full for a while since this book series has 13 books!! But it will be worth it to find out what Elena Michaels is up to these days. Also, all those sexy werewolves! 
 Dear Santa, I would like Bitten to magically show up on my Kindle Christmas morning. Love, Lety.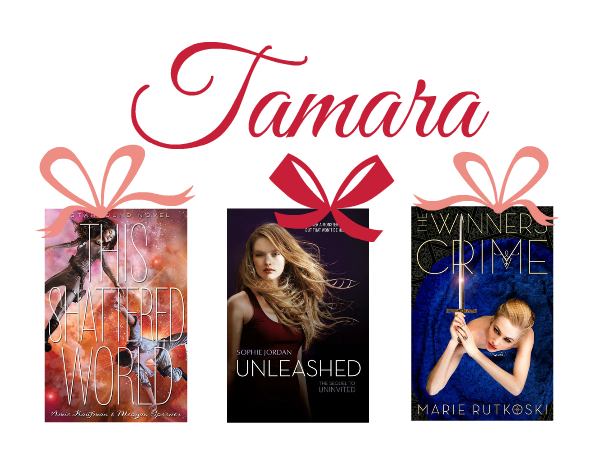 This Shattered World by Amie Kaufman and Meagan Spooner – I love a good sci fi book.
 I'm excited to read more about the amazing world created in These Broken Stars.
The Winner's Crime by Marie Rutkoski – I know this won't be out by Christmas but a girl can dream. The Winner's Curse was one of my favorite books this year. I read it in one sitting, and I can't wait for the sequel.
Unleashed by Sophie Jordan – Another book that won't be out but again I can dream. Uninvited was so amazing, I got really absorbed in that world and I need to know what happens next.
This Shattered World by Amie Kaufman and Meagan Spooner – Epic space action opera for the win! I got These Broken Stars last year and still haven't read it. I know, I know! But this way, I can read the companion novels back to back if
Santa/the Hanukkah Fairy*
brings the shiny to me.
Jewel of the Thames: A Portia Adams Adventure by Angela Misri – I can't remember where I found this book but I need it! The cover is so charming, it's set in London, and it's about a teenage girl detective who inherits 221 Baker Street aka the former offices of Sherlock Holmes! I love mysteries and banter, and this seems like it would have both.
Loop by Karen Akins – I've heard this book is super fun! I also love time travel, plus who wouldn't want to take actual field trips into history? And find super cute boys? And travel to the future? And solve mysteries? Sign me up!
*The Hanukkah Fairy isn't actually real but I couldn't think of a Santa equivalent! My family I guess? The Holiday Armadillo? Happy Hanukkah ;)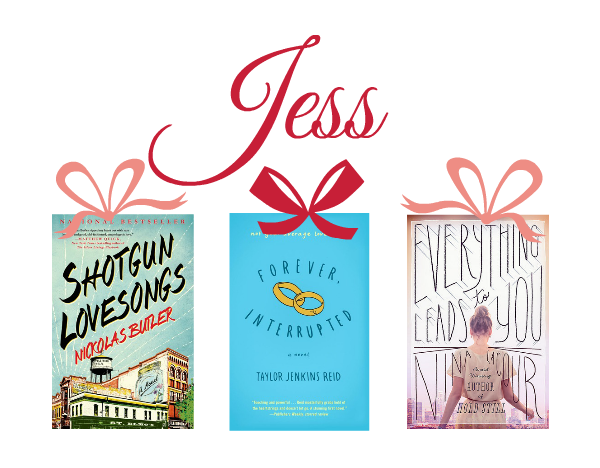 Shotgun Lovesongs by Nickolas Butler –

Forever, Interrupted by Taylor Jenkins Reid –

Everything Leads to You by Nina LaCour –