I'm doing 3 books in this week's WoW post. They are all being released next Tuesday, February 22nd, and even though it's only days away, the wait is still torturous!!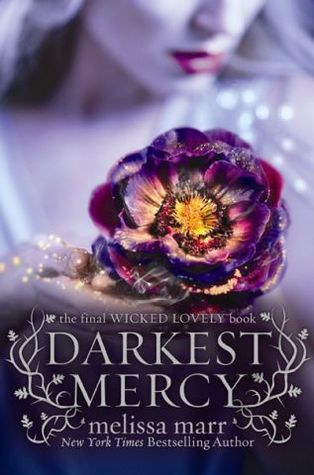 Darkest Mercy (Wicked Lovely #5) by Melissa Marr
Publication Date: February 22nd 2011 by HarperCollins
Add it on Goodreads!
The Summer King is missing; the Dark Court is bleeding; and a stranger walks the streets of Huntsdale, his presence signifying the deaths of powerful fey.

Aislinn tends to the Summer Court, searching for her absent king and yearning for Seth. Torn between his new queen and his old love, Keenan works from afar to strengthen his court against the coming war. Donia longs for fiery passion even as she coolly readies the Winter Court for battle. And Seth, sworn brother of the Dark King and heir to the High Queen, is about to make a mistake that could cost his life.

Love, despair, and betrayal ignite the Faery Courts, and in the final conflict, some will win . . . and some will lose everything.

The thrilling conclusion to Melissa Marr's New York Times bestselling Wicked Lovely series will leave readers breathless.
1. Darkest Mercy – The conclusion to the Wicked Lovely series. I'm anticipating this book will be amazingly written, just like all the others in this series. I am so worried about the outcome of these characters that I'm giving myself heartburn…or indigestion…I can't tell, I just know I'm worried!! :-| But I have heard from fellow bloggers that it is an epic ending, so it eases my pains a little. :-)
Iron Crowned (Dark Swan #3) by Richelle Mead
Publication Date: May 10th 2011 by Viking Juvenile
Add it on Goodreads!
New York Times bestselling author Richelle Mead takes readers back to the Otherworld, an embattled realm mystically entwined with our world–and ruled by one woman's dangerous choice…

Shaman-for-hire Eugenie Markham is the best at banishing entities trespassing in the mortal realm. But as the Thorn Land's queen, she's fast running out of ways to end the brutal war devastating her kingdom. Her only hope: the Iron Crown, a legendary object even the most powerful gentry fear…

Who Eugenie can trust is the hardest part. Fairy king Dorian has his own agenda for aiding her search. And Kiyo, her shape-shifter ex-boyfriend, has every reason to betray her along the way. To control the Crown's ever-consuming powers, Eugenie will have to confront an unimaginable temptation–one that will put her soul and the fate of two worlds in mortal peril…
2. Iron Crowned – Richelle Mead is one of my favorite authors, not because of Vampire Academy, which I love, but because of her Georgina Kincaid series…which is not this series but I just wanted to mention my love for the Georgina series. THIS series, the Eugenie Markham or Black Swan series, is also REALLY great! Like Darkest Mercy, it is a Fey book, and like all books about Faeries, there is a HOT Faerie King named Dorian who I can't wait to read more about! Friends…Dorian is hot. Just saying. So if you haven't checked out Richelle Mead's adult series..do so!!
This Side of the Grave (Night Huntress #5) by Jeaniene Frost
Publication Date: February 22nd 2011 by Avon
Add it on Goodreads!
Danger waits on both sides of the grave.

Half-vampire Cat Crawfield and her vampire husband Bones have fought for their lives, as well as for their relationship. But just when they've triumphed over the latest battle, Cat's new and unexpected abilities threaten to upset a long-standing balance…

With the mysterious disappearance of vampires, rumors abound that a species war is brewing. A zealot is inciting tensions between the vampires and ghouls, an
d if these two powerful groups clash, innocent mortals could become collateral damage. Now Cat and Bones are forced to seek help from a dangerous "ally"—the ghoul queen of New Orleans herself. But the price of her assistance may prove more treacherous than even the threat of a supernatural war…to say nothing of the repercussions Cat never imagined.
3. This Side of the Grave – Jeaniene Frost became one of my favorite authors last year with this series. Cat & Bones are one of my favorite couples. I wish Bones were in love with me instead…well, if I'm wishing for things, I guess I should first wish for Bones to be real. Cat is also one of my favorite heroines. I love her sense of humor and the fact that she can kick anyone's butt is also pretty damn cool.